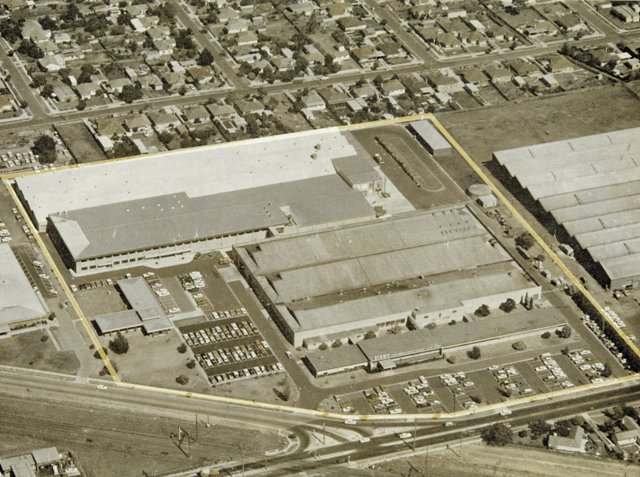 Between 1975 and 1996 the company was transformed as it entered a period of both consolidation and rapid growth. Although the expansion through the twenty year period began on a shaky foundation, by 1996 the company approached the impending 21st Century with renewed confidence.
The 1970s had, in many respects, been a turbulent period, but by the end of the decade there had been a return to profitability and the company's assets stood at just over $27 million. One of the lesser known aspects of Sigma's business in those years was the manufacture of a range of animal health products as most rural pharmacies had animal health / veterinary sections within the footprint of their shops. Penijec, Sulphajec, Calcijec & Procaine Penicillin were some of the better known products in use, among a Sigma inventory of about 1200 items. These included both small and large animal health products – everything from cat collars to cattle drenches.
By 1975 however, these earlier successes were under threat. The 1975 annual general meeting was held in the canteen at Sigma's Clayton manufacturing plant and attended by a huge crowd of concerned shareholders. In addition to the Mainline disaster, the company was also managing other challenges resulting from 'dramatic rises in wages and salaries and substantial increases in operating costs, such as freight, motor vehicle expenses, rates and land tax, post office charges and interest.' Profits had plummeted from $1.6 million to $790,000 and dividends were reduced to just seven cents a share. In the face of these issues, the board instituted a major program of cost cutting and rationalisation.
1975 also saw the retirement of Alan Hobbs after thirty years with the company. Hobbs had been chosen to succeed Haigh and was a well-known and respected figure throughout the pharmaceutical industry. His managerial ability and leadership qualities were seen as having made a major contribution to Sigma's continued growth and success.
1980 was a busy year. For the first time sales for the whole group exceeded $100 million and a more integrated approach to marketing and sales had seen improvements in presentation of products, rationalisation of manufacturing and cost controls. 1983 brought a seventeen cent dividend, plus five per cent on ordinary shares and a successful re-organisation of the Clayton warehouse.
What had been the monthly turnover in 1941 was now equal to what was achieved in half a day in 1983. In Victoria, Sigma boasted 'Australia's most modern and efficient live storage order-picking system' while a fleet of thirty vehicles made daily deliveries to chemists.
The increase in profits expected in 1986 had not materialised and Sigma was feeling the effects of rising interest rates, the new fringe benefits tax, the decline in the value of the Australian dollar and cost increases not fully recoverable under the Pharmaceutical Benefits Scheme. Added to this was the impact of an unusually low incidence of upper respiratory tract infections which had depressed sales of antibiotics and cough remedies.
In 1988, managing director Brian Comben retired. Dr Comben had joined the company in 1958 as a development chemist, later becoming factory manager, then general manager of both wholesaling and manufacturing divisions, and finally, in 1976, managing director. The Comben years saw significant growth and expansion into other states – South Australia in 1977 (through a controlling interest in Southern Drug Company Ltd); Tasmania in 1979 with Cados; the opening of a warehouse in Darwin in 1982 and in 1986 to Western Australia with the acquisition of Rumbles Limited.
New managing director, Alan Fincher, had also spent many years working at Sigma, having been recruited by Comben in 1967 to work as a development chemist. A qualified pharmacist, he was also a science graduate with a master's degree in administration.
Operational efficiencies were achieved with the completion of a $2 million state-of-the-art despatch system at Clayton, together with a new computerised invoice control system. The ethical branch structure was rationalised. Branches at Albury, Ballarat and Morwell were closed and support services from Clayton and the remaining branches at Carlton, Shepparton and Geelong were increased. Formalised customer service standards were introduced in order to measure performance and respond to customer needs. An industrial dispute in January 1988 had caused a severe reduction in services for an entire week and highlighted 'the fragile industrial relations' climate of the time.
Under Fincher, an executive committee comprising senior executives from manufacturing and wholesaling was established to plan for future growth and establish a clear strategic direction. Following the development of a corporate mission statement and the identification of the key issues facing the company, Fincher initiated a major organisational restructure at the senior management level which aimed to 'transform Sigma's independent wholesaling and manufacturing arms into a unified total service company' – one that was fully focussed on the needs of its shareholders and customers.
The beginning of the new decade marked a more depressed outlook. Further, a decision made by the Pharmaceutical Benefits Remuneration Tribunal in 1989 had resulted in 'drawn out and at times volatile discussions' between the federal government and the Pharmacy Guild. Government attempts to restructure the industry by reducing the number of pharmacies and containing the rising costs of the Pharmaceutical Benefits Scheme by revising the subsidies paid to pharmacists had seen the Guild organize an aggressive public campaign on behalf of its members which took quite some time to resolve. For Sigma's pharmacist shareholders, the immediate outcome of the final agreement between the government and the Guild was a period of 'severe price competition'. However, Sigma responded positively to the component in the agreement that provided financial assistance for pharmacy amalgamations and closures arguing that the company was in a good position to assist those of its members who were keen to amalgamate or close their businesses.
Some of the most dramatic effects of the recession were felt in Victoria as the community reacted to the shock of the Pyramid Building Society collapse, the Tricontinental debacle and loss of the state bank, multiple business failures and changes in government leadership. The pharmaceutical industry also experienced further disruptions as a result of a decision to substantially increase patient contribution for pharmaceutical benefit items and the introduction of a charge for pensioners. The announcement led to large stockpiling of products for pensioners and others on long-term medication in the lead up to the price rises. Although there had been a period of buoyancy during the stockpiling, subsequent wholesale trading had been severely impacted by a 'peak and valley effect' – something never previously experienced by the industry.
For Sigma, the early years of the 1990s were characterised by concerted efforts on the part of the board and management to guide the business through a very difficult trading environment. What had been seen in past decades as a sector of the economy that was virtually 'recession proof' continued to be adversely affected by the deepening recession and falling demand for pharmaceuticals. Both board and management reacted with strategies aimed at achieving substantial increases to profitability.
A range of new services that included a pharmacy assistant training program and support for store design and layout was introduced. A pharmacy business manager was appointed (the successful applicant being former chairman, Simon Appel), and an ambitious program of organisational restructuring aimed at 'changing the culture of the company to that of a focussed, achievement oriented and service driven organisation' was implemented.
Sigma celebrated eight decades of operation in 1992. Much had changed since the early days of Leete and just one building housing both manufacturing and wholesale operations. Sigma now had assets of $180 million, a group sales turnover of $600 million and more than a thousand employees.
The retirement, in 1995, of long serving board member, John Scown after twenty-seven years (including the chairmanship 1982-1986 and 1991-1992) marked something of a watershed in the development of the company as did the retirement of Alan Fincher after twenty-seven years – six of which had been spent as managing director. It was a changing of the guard.