Initially, the fortunes of the Sigma enterprise relied on E. H. Leete 'working from home', and even as late as 1915 company circulars were being issued from Leete's address in Claremont Avenue Malvern. Following the establishment of the business in 1912, the Sigma Company Limited was formally established in 1913 along with the trademark Sigma lamp. The foundations of what was to be the cornerstone of the company's success for the next eighty years or so, were laid down during the early years of development.
At first, the concept of manufacturing and distributing proprietary lines direct to pharmacists was so new that for years after the formation of the company it was described as the 'Sigma movement'. The first product in 1913 under the Sigma name was a hair tonic followed by a Sigma Salve. Salve sales in 1914 were 3,048tins.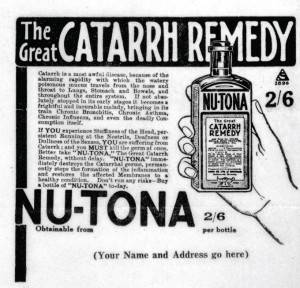 One of the most important early internal debates on how best to progress the business occurred in 1913 when the management committee decided to open sales of company products to wholesalers and to pharmacists who were not members of Sigma. There was some opposition to this, as the original concept was to restrict lines to member pharmacies only so that prices and margins could be maintained.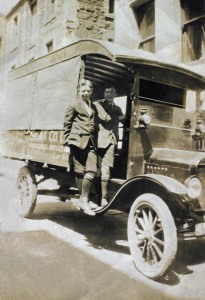 The outbreak of World War I in August 1914 found the infant Sigma with no capital, and very little stock. As war production gradually ramped up, with soldiers at the front receiving first priority, the market responded with ever increasing prices for smaller amounts of raw materials and supplies. Seta tablets, essentially an aspirin, were one of the early products. Aspirin supplies came from Germany, with the result that supplies soon dried up and what was left was directed to the war effort. The introduction of legislation forbidding 'trading with the enemy' meant that imports from Germany soon ceased altogether and Seta tablets were discontinued until after the war.
Although Sigma had decided in 1913 to make its products openly available, in fact it 'did not possess the means or the money to drive its small products into the mass market'. For Sigma, the war not only restricted growth, but also exposed some operational weaknesses. Nonetheless, the new enterprise made gradual progress. As a small operation, Sigma was able to respond more readily to market conditions. There was little direct impact on staffing, although with respect to the businesses owned by the directors a large number of pharmacy assistants enlisted in the Australian Imperial Forces – which meant individual directors had to re-engage themselves in their own pharmacies to keep them viable.
At the same time, Leete was active in making promotional visits to Tasmania and South Australia following expressions of interest from chemists keen to learn more about the Sigma movement.
A range of new products which would further broaden the appeal of lines offered by Sigma was in development. These included a dry shampoo powder, Sigma pills, kidney plasters, medicinal paraffin, SETA for rheumatism, a syrup of pine with tar, Bisby magnesia, coloured toothpastes and soap. By early 1915 Sigma could even afford to advertise with a 'Sigma Guide to Health and Beauty' booklet for its member pharmacists.
In these early days of the company, there was a heavy reliance on directors for product development and to maintain some semblance of quality control over what was produced, given that there were no formal procedures in place. Chemists in Sydney and Perth had also started to show interest in the company by mid-1915.
The catalyst for obtaining premises from which to operate occurred in 1915 when three Victorian wholesalers who had been assisting with distribution increased their discount demands. Two small offices in Walker Street behind the Castlemaine Brewery were acquired by in mid-1915, a move which helped to precipitate Sigma into wholesaling since now it could wholesale other company products in addition to its own. Seven staff were appointed and Leete became managing director while remaining as secretary on a salary of £5 per week.
Against the background of wartime restrictions on imports, 1916 brought shortages of pharmacy stocks and raw materials and cash flow problems. But Leete persevered, bringing even more new products on line. Already the growth of the company – it now has 358 shareholders – was necessitating consideration of its structure. In mid-1917, the old company was liquidated and a 'new' Sigma incorporated which allowed the directors to issue more debentures and raise fresh capital, which it had not been able to do under the old structure. As a further sign of increasing prosperity, Leete, who was now General Manager earning £30 per month appointed Sigma's first advertising company – 'The Successful Advertising Company'.
By 1919, this early success meant that Sigma needed larger premises in which to conduct its manufacturing and wholesaling operations. A building known as 'Batman's Chambers', at 487-489 Flinders Lane was purchased for £4,500 and the Walker Street offices were sub-leased. Business continued to progress slowly through the 1920s. After a trading loss in 1924, there was a growing realisation that the company structure itself was inhibiting faster growth. During the recession of 1926 the company had problems meeting its customer payments and by the end of the year formal meetings to discuss a restructure were underway.
In January 1927 it was agreed to link entitlements to purchase volume, and to largely return profits through dividends. A new Sigma Company Limited was established, with Leete now appointed as chairman but relinquishing day-to-day management of the company. By June 1927 there was a new optimism in Sigma. Symptomatic of this was the agreement with a small manufacturing chemist concern, Tromax Co. Ltd., to pack and deliver Sigma products. It was the beginning of a new era for Sigma.