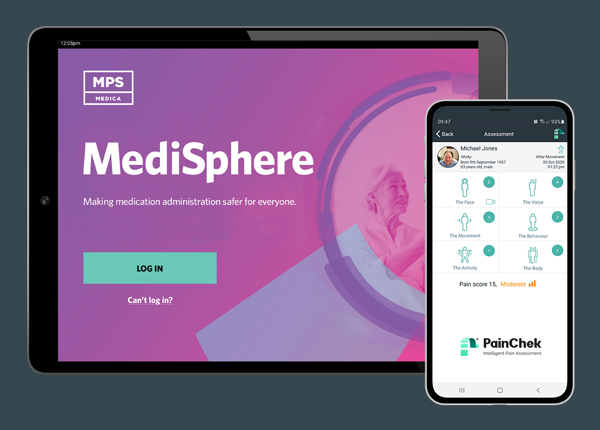 Improving pain management with PainChek® and MPS Connect
MPS Connect has partnered with PainChek® to improve pain management for people living in aged care and those receiving care at home.
PainChek's digital pain assessment app is to integrate with the MediSphere™ medication management system from MPS Connect, enabling complete pain intervention in one software system.
The landmark integration combines PainChek's regulatory cleared medical device with MPS' intelligent medication management to deliver effective pain management and treatment for people living in aged care and those receiving care at home. This partnership will enhance the user experience and health outcomes for consumers, carers, residents and nurses alike.
Together, PainChek and MediSphere will:
provide detailed information of pain at the delivery of pain relief medication
remove the subjectivity of someone's pain threshold and pain relief
trend the effectiveness of pain relief medication on pain rating over time, and alerts changes to PRN pain relief
provide consistency as the same tool is used when reviewing the outcome of pain relief
establish a pain management routine, from home care through to residential aged care
provide a holistic approach to pain and medication management.
Of this partnership, PainChek CEO Philip Daffas said:
"The MPS MediSphere™ solution is innovative and the integration of PainChek® into its medication management suite ensures all home consumers can receive best-practice pain and medication management. PainChek® was developed specifically to ensure we had a pain assessment solution that also meets the needs of the global aged care, home care, hospital and disability markets."
MPS Connect Head of Healthcare Operations, Renee Watson, said this integration will advance pain management for home-based consumers.
"We are delighted to integrate the PainChek® solution into MediSphere™, creating an integrated pain assessment and medication management solution for our home-based consumers. We are already a major supplier of pain medication in Australia and this collaboration further elevates our offering to that of a total pain management solution."
 Free webinars: 28 and 30 March
PainChek and MPS Connect are hosting two upcoming webinar sessions to provide care managers and carers an opportunity to learn more about this landmark integration and how it can improve treatment outcomes.
The webinar will be presented by David Allsopp, Head of Business Development Australia and New Zealand, PainChek, and Renee Watson, Head of Healthcare Operations, MPS Connect, who will detail PainChek's best-practice pain management and provide a deeper understanding of MPS Connect's medication management solutions.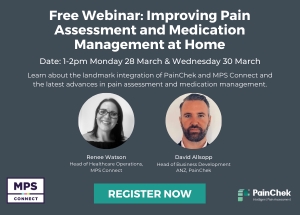 Join the webinar to discover:
how effective pain management can improve quality of life and how to overcome the common challenges unique to the home care environment
how medication management, live data feeds and complete integration between prescriber, pharmacy and facility improve clinical outcomes
examples of how intelligent integrations in home care have helped staff provide the best of care, enabling better health outcomes for residents and consumers.
The webinar will conclude with a live question and answer session.
Register for the webinar here.
Back