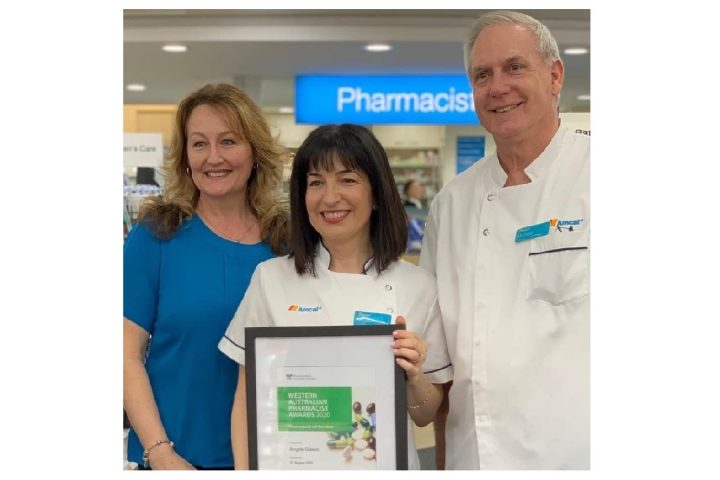 Congratulations to our very own Amcal Pharmacist, Angela Boyatzis, who received the prestigious Pharmaceutical Society of Australia's WA Pharmacist of the Year award.
A testament to Angela's approach to going above and beyond for every customer who walks through her doors, the award formally acknowledges her commitment to pharmacy and impressive work in the area of sleep management and health care. Through Angela's commitment to making a positive difference and helping others find achievable solutions to their healthcare needs, she has truly become a valued community member and tremendous leader.
We caught up with Angela and found out a little more about her and why she loves her role as a pharmacist at Amcal+ Pharmacy Como:
What inspired you to pursue a career in Pharmacy and to become a Pharmacist? I'm passionate about helping our customers find achievable, simple and sustainable solutions to their health problems and nothing beats the feeling of having a positive impact on people's lives, no matter how small it may be.

What are your proudest career achievements? I'm thrilled to have received the WA Pharmacist of the Year award, but my proudest achievement is leading my team and watching them grow and adapt, while continuing to support our community and provide excellent service to our customers. I'm also so proud of our in-store sustainability initiative, whereby offering reusable alternatives to traditional products and introducing dispensary recycling practices. We're reducing our contribution to landfill more and more every day, and looking after our community in more ways than one.

What is the most rewarding aspect of your role as a Pharmacist? Collaborating with our local community to constantly adapt and change our health services and product offering to deliver the best possible outcome for them. We also play a crucial role in reassuring and supporting our customers, and it's so rewarding to be able to create a welcoming space for them to improve their health and wellbeing – I have the best job in the world!
Back