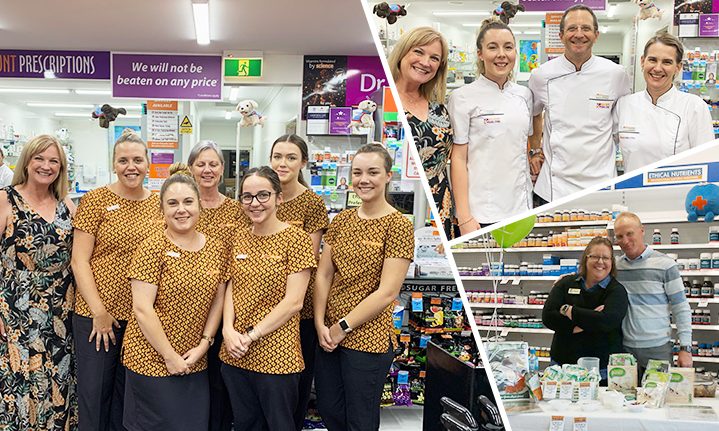 Every day, all over Australia, Sigma Healthcare Business Development Managers are visiting and communicating with our pharmacy customers and helping them grow their businesses.
At Sigma, we see our principal role as supporting pharmacies in growing their businesses and, as a critical component of the Australian healthcare system, better serving their communities. To those ends, and across all our brands as well as independent pharmacies, we provide every one of our customers with their own personal representative. Our Business Development Managers (BDM) work closely with our Franchise Partners and their teams to drive and assist the achievement of their financial goals and business objectives.
So, what does a typical day look like? Our BDMs' visiting schedules vary according to pharmacy brand and location, but their aim is to meet with each pharmacy on a regular basis to run through a wealth of business indicators and opportunities.
Arriving prepared
Customers know when to expect their Sigma BDM, and visits are typically firmed up the week before. BDMs also try to keep space in their diaries so they can respond when things come up at short notice.
Before setting out – whether by car, plane or via Teams or Zoom, as became the norm through COVID-19 restrictions – the BDM builds a customised collection of vital statistics about the customer's business. They also prepare to discuss a range of targeted initiatives that are aligned with the pharmacy's business objectives.
For example, in late October every pharmacy is urged to pre-order flu vaccines before deadline for the 2021 season. Some customers may be test-driving in-pharmacy health services, so they will find it useful to hear about additional services. Others will be offering a comprehensive range already, so results on their progress and new ways to promote relevant services to their particular demographic will be of interest.
Optimising each visit
They typically start with the pharmacy owner, running through revenue and gross profit results over the previous month or quarter. David Dingjan, BDM for Amcal and Guardian across Tasmania, sees himself as "the face of Sigma", so he typically conveys knowledge from across all Sigma services to his customers. "I'm the one here on the ground if they need help with financial advice, or training staff in the Sigma Academy, or support for new service initiatives. I can connect them up."
Megan Gardiner is a BDM for DDS in Queensland. Today she covers Brisbane to Townsville, but at the start of her career 11 years ago she was responsible for Hobart to Cairns! Like David, she provides detailed financial reports for each pharmacy, then moves on to areas of the business to focus on for growth and current opportunities.
"On every call I offer a set of initiatives to focus on for the next couple of months. We talk about staff training, customer foot traffic, results of quarterly Mystery Shopper visits, and how they're tracking with the performance of their Loyalty Program customers. Retail standards are also important, ensuring that our stores are merchandised in a way to create an engaging shopping experience for their customers to better enable buying decisions. Have they placed promotions and categories in the right area? Is stock ticketed, are staff badged and in uniform, and is the store 'fresh and inviting'?"
Most BDM visits include a walk-through with key staff – if not a comprehensive audit across a range of criteria. "It's a chance for them to look at their store though external and experienced eyes," Megan says. "One example is the community health services they could be offering. Some pharmacists are simply too busy to see the value. We can help them by discussing wins made by other stores."
David says that Sigma BDMs are in a position of great trust. "They feel comfortable talking to me about their business. If a pharmacy owner is thinking of selling, I'll pass that on to our support office. We are then able to support the customer by tapping into our database of buyers to help them connect to the right one – based on our knowledge of the location and its community."
Following up
What comes out of every call is a series of actions for follow up. Sometimes the pharmacy – its owner or staff – have tasks to achieve, from a revised planogram to the addition of a new product range or health service. The Sigma BDM also collects a list of 'to-dos' – questions to be answered, information to be sent and requests to the Sigma support office to provide specific assistance. Then, by the end of the day, the BDM sends an email confirming follow-up actions, and attaching the range of reports and information discussed during the visit.
But it doesn't end there. On any given day, they are likely to spend a couple of hours catching up with multiple customers in between visits. They communicate updates by videoconference, phone or email – to ensure every pharmacy team in their territory has access to what they need on a continuous basis.
David and Megan both agree that it's a highly satisfying career. "I love this job, and the best part of it is happy customers," David says. "It's very rewarding when they get high scores in audits, or achieve increases in their business results. Seeing them benefiting from their efforts and sharing in that success keeps me motivated."
Megan says, "I really love seeing the differences between each store – their challenges and achievements – and watching their staff and businesses grow. We help pharmacies run better businesses; we listen to them and we give them a voice. They're all part of the Sigma family, and we're a part of theirs."
If you'd like to know more about services to pharmacies offered by Sigma Healthcare, visit our website.
Back