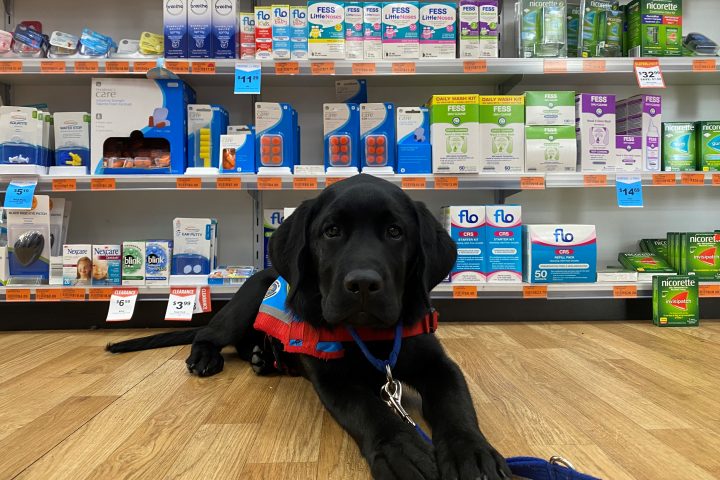 Discount Drug Stores bolsters commitment with Assistance Dogs Australia for another year. 
Discount Drug Stores has continued its long-term partnership with Assistance Dogs Australia, announcing the sponsorship of its 12th dog for the charity.
Over the past twelve years, Discount Drug Stores has raised more than $300,000 for Assistance Dogs Australia through grassroots fundraising activities across 130+ stores nationwide
To celebrate the sponsorship, Discount Drug Stores invited the community to name the new puppy via an online naming competition. Tango was chosen out of 930+ entries as the most fitting name for the black Labrador that will go on to provide support for a family or individual living with physical disabilities, autism spectrum disorders or post-traumatic stress.
Patrick Stoll, Head of Discount Drug Stores, said: "We're proud to continue our partnership with Assistance Dogs Australia and support the incredible work they do in the community. Receiving one of these highly intelligent dogs can be truly lifechanging for the one in five people living with a disability in Australia. Not only are the dogs trained to provide physical and emotional support, but they are loved as life-long companions.
"This is the first time we've called on the community to help us find a name for the pup and it's been wonderful to see so many people get involved. We couldn't be happier to send Tango off on his journey to become a fully qualified assistance dog."
Once Tango has mastered the basics, he will move to the National Training School in Sydney to further advance his skills and add to his repertoire client specific skills. After the two-year journey to become fully trained, he will be perfectly matched to an owner with unique needs.
Assistance Dogs Australia CEO, Richard Lord, said: "As we head into our 25th year the community need for Assistance Dogs Australia has never been higher, with the estimated wait time for a dog now up to two years. As a not-for-profit organisation, we rely solely on public donations for our assistance dog programs so the loyal and unwavering support of the Discount Drug Stores team is an invaluable contribution towards changing the lives of people who need a certified assistance dog.
"The funding we receive from Discount Drug Stores not only gets us closer to providing independence, self-esteem and improved health and relationships to individuals and families but contributes to building stronger communities as a result."
Discount Drug Stores will also support Assistance Dogs Australia in its month-long initiative 'Dogtober' later this year with instore fundraising activities.
Back