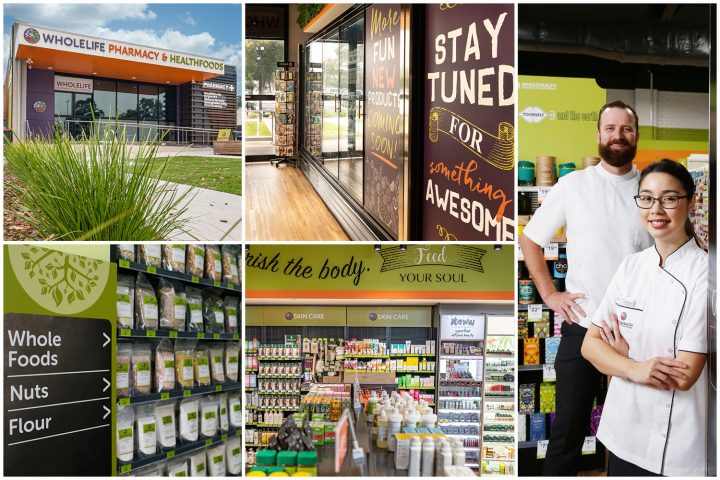 WholeLife Pharmacy & Healthfoods is the newest brand to enter the Sigma Healthcare portfolio and the brand is bringing a fresh perspective to the pharmacy world.
Damian Young, Head of WholeLife explains, "The WholeLife brand was born in a pharmacy when we started listening to what customers were really wanting. We saw an emergence of a growing movement toward organic and natural products coupled with holistic health services. After validating and refining the initial idea in a concept store, the WholeLife Pharmacy & Healthfoods brand was launched in May 2017."
The WholeLife Pharmacy & Healthfoods brand is now leading the reinvigoration of the pharmacy landscape by providing a reason for customers to visit their local pharmacy on a more regular basis, increase their average basket sizes and experience the professional expertise of the WholeLife specialists, whilst complimenting a full traditional pharmacy offering.
Damian continued, "When you walk into a WholeLife store, you are greeted with an extensive range of health foods, organics, natural beauty, sustainable living and eco cleaning products coupled with your trusted traditional pharmacy offering. WholeLife is a haven for those looking for a one-stop health, wellness and lifestyle shopping destination supported by experienced, holistic expertise. Several of our product ranges are from smaller suppliers who don't traditionally supply retail stores – so we often witness the delight of our customers when they discover a product that they could previously only purchase online."
From a pharmacy owner's perspective, the WholeLife brand is encouraging a new type of customer into store, driven by the broadened product and service offering.
These are customers who are seeking to consider wellness, rather than just treat illness. The WholeLife offering is also increasing basket sizes of those who previously only purchased traditional pharmacy products.
The proof of the success of WholeLife Pharmacy & Healthfoods model is demonstrated in the rapid expansion of store numbers and the sales results that are following. There are now nine fully branded stores and five store-in-store outlets, with plans for several more stores to open across Australia before the end of 2020 and significant expansion plans for 2021 and beyond.
WholeLife is also engaging with customers differently. The use of social media, social influencers and online content is seeking to engage with new audiences and also build the profile of the brand.
"The strength of building a strong digital brand for WholeLife cannot be underestimated.  Our customers are always on-the-go and we feel the best way to engage with them is to connect with them in the online environment.  Recently we launched a new product in store through social media only and within days, we had sold out.  The power of digital marketing to drive foot traffic is incredible," remarked Damian.
Since March 2020, the WholeLife brand has experienced a 24% increase in unit sales across all stores, specifically driven by strong increases in the health food and lifestyle product categories. Whilst WholeLife experienced a sales spike in March 2020 associated with COVID-19 impacts as the majority of the pharmacy industry, the upward sales trend has continued every month since March significantly outperforming the market.
Growth in the WholeLife business is being driven across every retail category with the highest growth coming from product segments that are unique to the WholeLife offering.  The sales momentum hasn't slowed post the COVID-19 spike, with sales for the month of July, across the WholeLife group, increasing by 24.3% versus the same period last year. Strong growth has been evident in the natural health wellness categories with sales growth across these categories for the month of July at 53.4% and this growth being carried into all other retail categories experiencing a 15.9% increase.
When reviewing specific product segments, the growth has been driven by unique products that are core to the wellness and lifestyle WholeLife proposition, specifically health food (+24.1%), home health care (+28.1%), skincare (+31.2%) and first aid (+29.1%).
"These results are very pleasing particularly at a time when the retail landscape is struggling with a contraction of household consumption of 12.1% and a 2.8% decline in spending on goods for the June quarter of 2020." said Damian. "Now more than ever, customers are becoming more conscious of the products that they are consuming and how they can adjust their daily habits to live healthier and more sustainable lifestyles. Our customers were regularly visiting these pharmacies for products when they were unwell, but now they have increased their purchase frequency and basket sizes to cater for their everyday needs. WholeLife is perfectly positioned to support these changing market needs and deliver strong financial outcomes for pharmacy owners."
If you are considering ways to reinvigorate your pharmacy with a future-focused and market-led brand, register for a confidential discussion with the WholeLife team today: https://wholelife.com.au/joinus/
Back