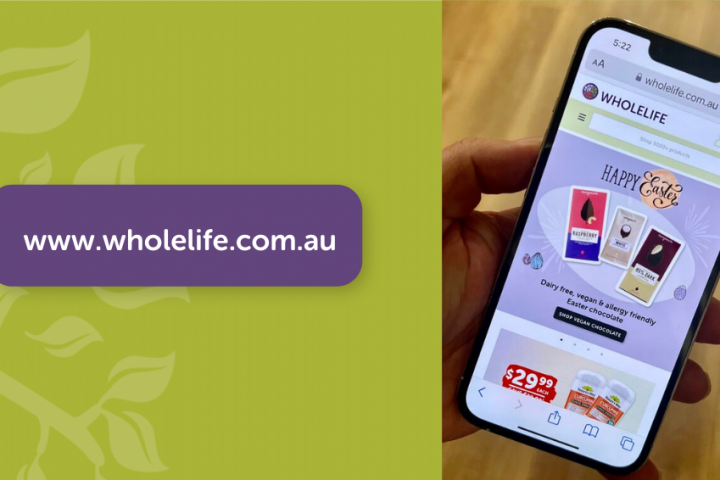 Looking for a wide range of health and wellbeing products and services from pharmacy to wellness to health foods, sustainable living and more? Visit our new WholeLife website!
Head of WholeLife, Damian Young said, "We are very excited to have recently launched our new website. We have worked hard to understand how to best deliver a simple to use, yet comprehensive experience for our customers. The new site provides the ability for our customers to browse through our range, learn more about our products and services as well as discover more about WholeLife."
Health, Wellness, Beauty and Lifestyle Products
WholeLife's new look website features a wide range of shoppable products. The site has been designed to deliver versatility for customers in the way they choose to shop including the convenience of 'click and collect' as well as local delivery direct from their local store. With an expanding presence of WholeLife stores in Queensland, NSW and Victoria, we're sure you will find what you need in store or online.
Health Services
Your local WholeLife Pharmacy and Healthfoods store offers a wide range of in-store services that are aimed at enhancing your health and wellbeing. Offering both traditional pharmacy health services and a range of alternative wellness services, explore our website to find out more.  The new website offers information about our broad range of health services such as gut and digestive health, naturopathic services, compounding, diabetes management, dose administration aids, electronic prescriptions, eye care, heart health, hearing checks, in pharmacy medicine review, sleep health services, and quit smoking services, to name a few.
Vaccinations
WholeLife offer COVID-19 and flu vaccinations administered by one of the pharmacists which you can book online via our website. Now is the time to book your flu vaccinations to reduce the likelihood of becoming unwell with influenza.
WholeLife Blog
With a holistic approach to health, check out our blog posts for recipes, trends, health information, new products and hints and tips.  You can discover more about leading a healthy lifestyle via the WholeLife blog – your go-to for all things health and wellness.
The website also delivers for our franchise partners – providing an even more enhanced offering to support the changing needs of customers and better serve local areas.
Interested in finding out more? Visit the WholeLife website and let us know what you think. We'd love to hear from you!
Back