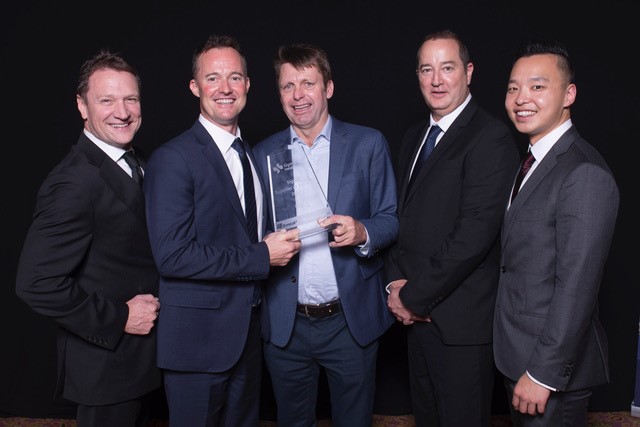 Bayer Australia Wins Major Industry Award
Bayer Australia has won the prestigious 2017 Sigma Supplier of the Year award at a gala industry event held at the Plaza Ballroom in Melbourne last night.
In front of 360 guests, Sigma Healthcare's Chief Executive Officer Mark Hooper presented Mark Sargent, General Manager of Bayer Australia and New Zealand, with the award, which recognizes Bayer's commitment to a strong partnership to mutually grow business activity, services and customer engagement.
Sigma has led the way in the pharmaceutical sector by annually acknowledging its suppliers in an award ceremony as part of its continuing program to invest in business partnerships.
Bayer Australia was also awarded the 2017 Medicinal Supplier of the Year at the awards. Other 2017 winners acknowledged for their excellence on the night included Colgate Palmolive, Kings Transport, Evolution Health, Johnson & Johnson, Beiersdorf, Abb Vie and Nestlé. (see full list of winners below)
Mark Hooper commented: "The Sigma Supplier of the Year award is a measure of the consistently high level of engagement and commitment which Bayer Australia have demonstrated to Sigma, which helps our pharmacy members and our customers. They have also facilitated proactive and responsive business initiatives across our retail and wholesale business."
"Bayer Australia have proven to be a great business partner to Sigma, with a strategic and holistic approach across all aspects of our business, as evidenced by them also taking out the Medicinal Supplier of the Year award, amid a broad range of category winners announced last night," Mr Hooper said.
Mark Sargent from Bayer ANZ commented: "Over the past 18 months, Bayer have set its sights on understanding the areas of importance to Sigma and how we could add value to all areas of the organisation. This award is an outstanding recognition of the hard work over that period and we thank Sigma for that recognition."
The Oscars/Academy Awards themed evening at the awards night saw over 360 participants join special guests including model and television personality Rachael Finch, who is also Amcal's Beauty Ambassador and the entire Board of Sigma Healthcare, to recognise outstanding supplier achievement.
Funds were also raised at the gala event for Sigma's partner charities – Carers Australia and the Summer Foundation. Mr Hooper presented a cheque for $55,000 to each charity during the event.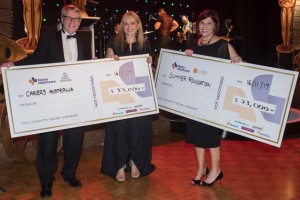 Over 250 suppliers were in the running for the awards, with eleven suppliers recognised for outstanding achievements.
Mr Hooper said the awards were an important recognition of the critical role that suppliers played in the pharmaceutical sector.
For more information, please contact:
Stephen Dabkowski
Blue Dot Media
0419880486
The Full List of Winners
Sigma Supplier of the Year winner     :      Bayer Australia
| | |
| --- | --- |
| Category Winners | |
| FMCG Supplier of the Year | Colgate Palmolive |
| Medicinal Supplier of the Year | Bayer |
| Health & Wellbeing Supplier of the Year | Evolution Health |
| Beauty / Gifting Supplier of the Year | Johnson & Johnson |
| Pharmacy Support Supplier of the Year | BRL Contracting |
| Logistics Supplier of the Year | Kings Transport |
| Wholesale Supplier of the Year | Beiersdorf |
| Ethicals Supplier of the Year | AbbVie |
| Multi-Channel Supplier of the Year | Nestlé |
| Professional Services Supplier of the Year | Janssen Cilag |
| Marketing Pharmacy Support Supplier of the Year | Naked Communications |
Back