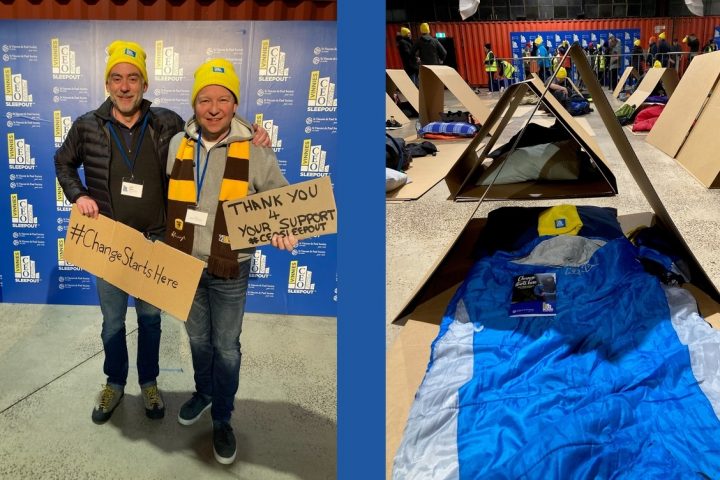 Last week Chief Commercial Officer, Jeff Sells, and Head of Amcal and Guardian, Kurt O'Brien, both slept outside as part of the Vinnies CEO Sleepout to raise awareness and much needed funds for those experiencing homelessness.
On one of the longest and coldest nights of the year, Jeff and Kurt braved a frosty Melbourne evening as part of Vinnies' annual CEO Sleepout – raising awareness and much needed funds for those in need.  Alongside hundreds of leaders across Australia, they slept outdoors for one night to experience what life is like for thousands of Australians who experience homelessness.
Unfortunately, in Australia, more than 116,000 people don't have a safe and secure place to call home. Every year, Vinnies hold the one-night Vinnies CEO Sleepout event to raise money towards providing support services year-round, especially for those who have had COVID-19, job losses, or have been faced with the social and economic pressures threatening their housing stability.
The national fundraising goal this year is $8.7 million.  We are proud of Jeff and Kurt's fundraising efforts in raising an impressive total of $17,573 collectively which will go towards essential items such as meals, support programs and health services. Sigma is pleased to have matched every donation made up to $5,000 – advocating for those who are experiencing or at risk of homelessness.
Thank you to Jeff, Kurt, our generous donors, and all the other leaders who participated in this year's CEO Sleepout for your extraordinary efforts to create change and break the cycle of homelessness in Australia.
There is still time to get involved and donate (before 30 July) if you want to support this worthy cause:
Back