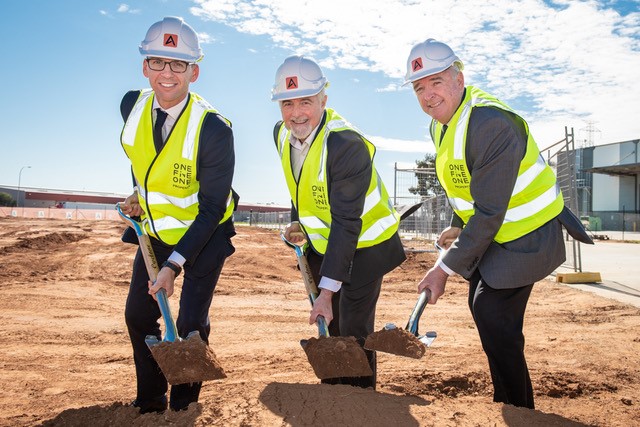 Sigma Healthcare (Sigma) today marked the beginning of construction of a significant new infrastructure project for South Australia – a new $20 million state-of-the-art pharmacy distribution centre in north Adelaide.
In a sod turning ceremony at Pooraka with special guest Mayor Gilliam Aldridge OAM, Sigma's CEO Mark Hooper described the investment as a further illustration of the company's commitment to improving efficiency and customer outcomes, especially in South Australia.
"Sigma services the biggest network of pharmacies in Australia and our distribution centres are critical to ensuring a smooth and speedy wholesale distribution chain, especially for those time sensitive medicines critical for community health. As a company, we've made an overall commitment of over $220 million to improve our distribution centre network in Brisbane, Perth, Sydney and now Adelaide,'' Mr Hooper said.
"The Adelaide distribution centre will be Sigma's largest ever investment in South Australia, worth more than $20 million. As a company, we are committed to future growth and our new network of distribution centres across Australia will be critical to ensuring pharmacists are always well stocked with the medicines and products required to look after their local communities in the best way possible,'' he said.
City of Salisbury Mayor Gillian Aldridge, OAM, welcomed the beginning of the development in Pooraka today.
"The City of Salisbury is the perfect place to position business for growth and we're excited Sigma Healthcare has chosen to be part of our business community here in Salisbury," Mayor Aldridge said.
"Our Council actively supports business because we know the benefits it brings to our community."
"We look forward to working with Sigma Healthcare as it invests in jobs and economic growth in the City of Salisbury."
The new 10,000 square metre facility in Pooraka will create jobs during the construction phase and employ 50 staff to operate the new DC.
The property is being delivered for Sigma by 151 Property within its flagship Goldsborough Industrial Estate. CEO of 151 Property, Chris Chapple, says the company is delighted to commence work on this important project.
"We're thrilled to have partnered with Sigma to create it's purpose-built, state-of-the-art distribution facility, which will benefit the community of South Australia.  The construction of this facility at Goldsborough Industrial Estate is a wonderful example of partnering with our customers to satisfy their accommodation requirements within our existing estates" he said.
151 Property has appointed Ahrens, a leading South Australian builder, to design and construct the distribution centre.
The new facility has been designed to maximise environmental efficiency and to limit Sigma's environmental footprint.  Initiatives include smart LED sensor based lighting system, high grade insulation, the inclusion of solar power, water recycling and irrigation, and natural stormwater filtration.
The new facility is expected to be fully operational in the later part of 2019.
Back