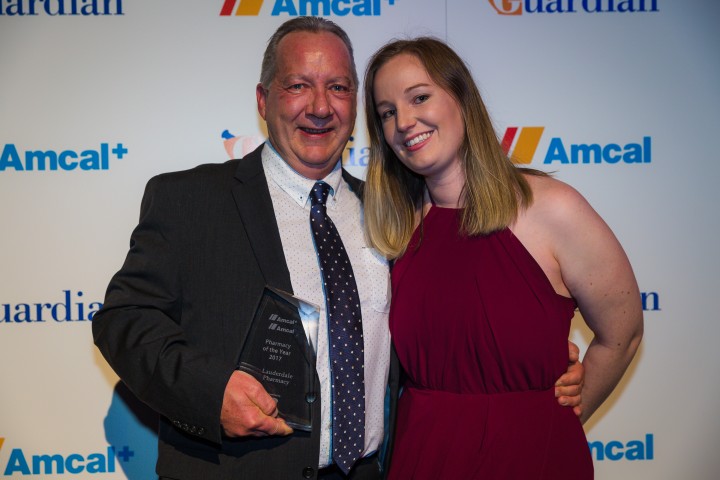 At a glittering ceremony to mark the end of the 2018 Amcal/Guardian Retail Conference held this week on the Gold Coast, Sigma Healthcare announced the winners of the prestigious annual Amcal and Guardian Awards.
These awards recognise those Amcal and Guardian pharmacies from around Australia who achieve the highest excellence in their application for customer service and community engagement and represent the true leaders of their brand.
Sigma Healthcare senior executives judge the awards each year.
The award winners were spread across Australia, but there was one multiple award winner – Lauderdale Pharmacy, on the outskirts of Hobart in Tasmania, including their pharmacy's Retail Manager, Teagan Crawford.
The award judges particularly highlighted the three key winners:
Amcal Pharmacy of the Year: Lauderdale Pharmacy – Tasmania
Brian Tomlin, General Manager Amcal & Guardian commented: "Graham Priest, the owner, and his team have worked extremely hard to ensure that they provide an exceptional level of customer service and professional advice to grow their customer base.''
"This pharmacy is heavily invested in the community and are actively involved with the local primary school, bowls club and other community groups.
"Amcal has taken a position to promote Professional Services and the need to have a pharmacist always available as the key to looking after customers. Graham has chosen to employ two full-time pharmacists to bring this vision to life in his pharmacy and has developed a close relationship with his local GP surgery so that the pharmacy provides an outstanding level of healthcare in the community,'' Mr Tomlin said.
"Lauderdale Pharmacy goes above and beyond the normal to support and assist their customers and deserve the accolades given to them''.
Guardian Pharmacy of the Year: Corrimal Court Pharmacy – NSW
Marc Clavin, Chairman of the Amcal Guardian National Council commented: "Corrimal Court Guardian is a flagship Guardian in Wollongong and this is because of the hard work and dedication of owner Lili Cosic, Retail Manager Karina Ribeiro and their wonderful team.''
"The team are great ambassadors for the Guardian brand and support other Guardian teams in the region to achieve their goals.
"The honesty of Lili, Karina and all the staff and their hard work help Sigma best illustrate Guardian's offer to its members and its programs that really assist local pharmacies,'' said Mr Clavin.
"The team at Corrimal Court Pharmacy never rest on their laurels and are always striving to improve the health of their local community''.
Lili Cosic commented: "I'm privileged and honoured to win this award and represent the community minded Guardian brand. This award goes to my dedicated and passionate team whose focus is always the best outcomes of our customers. ''
Professional Services Pharmacy of the Year: Amcal+ Salamander Bay – NSW
Brian Tomlin, General Manager Amcal & Guardian commented: "Salamander Bay Amcal+ based in Port Stephens is a pharmacy that truly understands the benefits of providing quality professional services to their customers.''
"Owners Ralph Kaiko and Christian Hernandez and their team have ensured that their customers will always receive prompt and reliable health advice in order to improve their health.
"The difference is the team at Salamander Bay has a dedicated Professional Services pharmacist that ensures that the team know all of the current information for most disease states and that they remain a vital link in the health solution chain for their community,'' Mr Tomlin said.
Ralph Kaiko commented: "This award is the pinnacle of my professional career, it is something that I have tried to achieve over 30 years of practice, but it is only since Sigma gave me the tools that we have been able to create an environment of excellence. When we embarked on this trail, I handed the flag to Andrew Ratley, my professional services pharmacist, who took the bit between his teeth and ran with it as if it was the Melbourne Cup. He's been guided by Christian Hernandez, my partner and dispensary manager, who also believes that professional services are a combination of pharmacy professionalism.''
The Full List of 2018 Amcal and Guardian Award Winners
Guardian Community Engagement Pharmacy of the Year: Warners Bay Guardian Pharmacy – NSW
Amcal Community Engagement Pharmacy of the Year: Narrogin Amcal Chemist – WA
Professional Services of the Year: Amcal+ Salamander Bay – NSW
Guardian Pharmacy Assistant of the Year: Sheena Izadi – Beaconsfield Pharmacy – VIC
Amcal Pharmacy Assistant of the Year: Nicola Jenkins – Waratah Village Amcal –  NSW
Guardian for Retail Manager of the Year: Janelle Maw – New Norfolk Guardian Pharmacy – TAS
Amcal Retail Manager of the Year: Teagan Crawford – Lauderdale Pharmacy – TAS
Guardian Pharmacy of the Year: Corrimal Court Pharmacy – NSW
Amcal Pharmacy of the Year: Lauderdale Pharmacy – TAS
Back