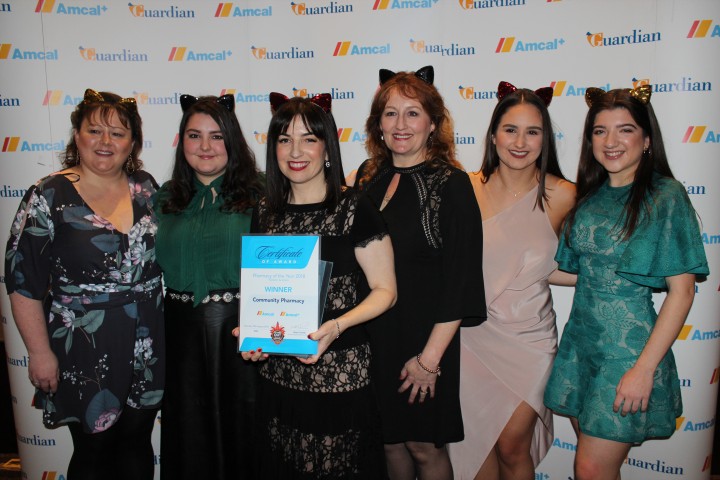 The state winners of the best performing Amcal and Guardian pharmacies in NSW and Western Australia have been named at their respective annual Amcal and Guardian Pharmacy Assistant Annual Conference Awards.
The award winners (listed below) will now represent their states at the National Amcal and Guardian Retail Conference and Gala Awards to be held on the Gold Coast in March 2019.
Brian Tomlin, Sigma's General Manager Amcal and Guardian congratulated all the award winners.
"Amcal and Guardian would like to acknowledge and thank all our award nominees, finalist and award winners. Our pharmacies play a pivotal role in providing complete healthcare solutions, to improve customer and patient health outcomes in our communities. We are very pleased to be able to recognise their achievements and celebrate the award winners,'' he said.
Other state winners will be announced in the coming weeks.
The NSW and WA Award Winners
Amcal and Guardian Pharmacy of the Year 2018
Guardian Award Winner: Warners Bay Guardian Pharmacy NSW
Amcal Award Winner: Amcal+ Kempsey NSW
Guardian Award Winner: Narrogin Guardian Pharmacy WA
Amcal Award Winner: Amcal+ Community Pharmacy WA
Guardian and Amcal Community Engagement Pharmacy of the Year 2018
Guardian Winner: Gorokan Community Pharmacy NSW
Amcal Winner: Noraville Amcal Pharmacy NSW
Guardian Winner: Dongara Guardian Pharmacy WA
Amcal Winner: Narrogin Amcal Chemist WA
Amcal Professional Services Pharmacy of the Year 2018
Award Winner: Amcal+ Kempsey NSW
Award Winner: Amcal+ Donnybrook WA
Amcal and Guardian Retail Manager of the Year 2018
Amcal Award Winner: Mary Perry – Moorebank Amcal Pharmacy NSW
Guardian Award Winner: Jenny Graham – Old Bar Guardian NSW
Amcal Winner: Myra Atturo – Amcal Max Tuart Hill WA
Guardian Winner: Tania Malachowski – Rangeway Guardian Pharmacy WA
Amcal and Guardian Pharmacy Assistant of the Year 2018
Amcal Award Winner – Sam West Amcal+ Rutherford NSW
Guardian Award Winner: Jess Horneman – Old Bar Guardian NSW
Amcal Winner: Kyarna Trigwell – Amcal+ Donnybrook Pharmacy WA
Guardian Winner: Sarah Oats – Narrogin Guardian Pharmacy WA
Back