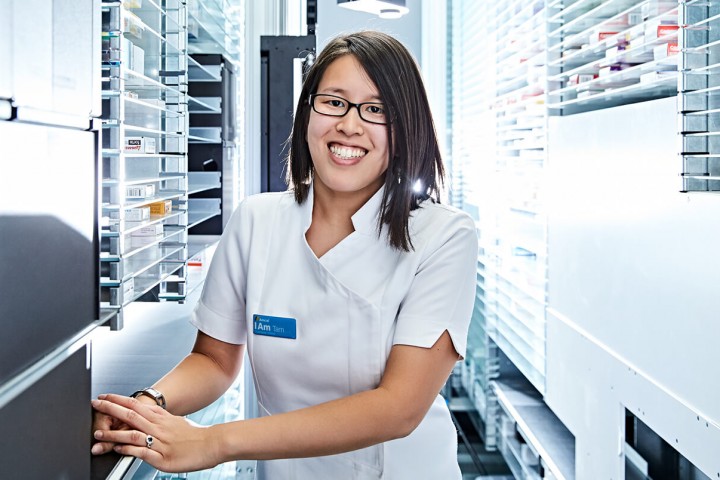 Who is Sigma?
Sigma Healthcare is a leading Australian-based wholesale and distribution business. We have the largest pharmacy network in Australia, with over 1,200 branded and independent stores. Sigma also has an expanding presence in the hospital pharmacy services.
What are Sigma's values and philosophy?
At Sigma, we have a plan to redefine the future of pharmacy and personal healthcare. Our philosophy is that we believe healthy partnerships support healthy communities. We provide connected solutions to the healthcare community, and we help our pharmacist partners to run better businesses. Regardless of whether you are independent or currently branded, if you are a business owner, you can benefit from a partnership with Sigma.
How does Sigma Healthcare fit in the Australian landscape?
With 106 years of experience, Sigma continues to be a leader in the rapidly evolving Australian healthcare sector. We put delivery of world-class care and advice for the community above all else, including profit. Our recent purchases of companies such as MPS, CHS and MIA complement both our existing core business and customer base while providing new opportunities for our business partners. If you are a pharmacist owner, Sigma's brand offerings and world-class wholesale service can help you to weather industry shifts. By taking advantage of new skills and technologies, we can help you to run a better business.
What is Sigma's point of difference?
We know that healthy pharmacy partnerships are vital to healthy communities. Our commanding position in the industry with five pharmacy brands and independent offerings allows us to find the right solution for your individual needs. You will have access to our industry experience and connections, and be backed by our team of industry experts and buying power. At Sigma, we aim to help you to succeed in this increasingly competitive landscape.
What are the steps for a business owner to join Sigma Healthcare?
If you are interested in joining Sigma Healthcare, you can contact us directly. You will then work through the following process:
An experienced business development manager will work with you to understand your "needs and wants" not just for now, but into the future. You will explore both financial and personal goals.
You will have the opportunity to explain how you wish to conduct your business, and how you aim to be perceived by your peers, patients and customers.
This process will help determine whether you wish to receive the benefits of a branded offer or retain your independent identity.
Sigma will then provide a business analysis and project appraisal to determine the mutual viability of the future business relationship.
This strategy forms the basis for Sigma to build an offer that best suits you and your desired outcomes for your current and future needs in an evolving industry.
It is vital that this relationship is built on trust and belief by both parties.
How can Sigma help pharmacy owners to grow their business and plan for the future?
Sigma has a wide range of options to help pharmacists grow their business and plan ahead. Depending on your needs and the brand or banner you select, we can help you in the following ways:
We can offer regular, relevant account management support (independent/wholesale).
We can provide consistent, relevant business development manager support (brands/banners).
Many of Sigma's brands incorporate full business planning tools and systems that are introduced and developed in conjunction with you. The business development manager then works with you and your staff to implement, monitor and measure the success of each point in the business plan.
Upon reaching a goal or target, the business plan is reviewed to ensure its ongoing relevance to your financial and emotional needs.
As your business grows, there is also the opportunity to provide financial reviews and plans through Sigma Financial Services.
What type of support can a pharmacy owner expect from Sigma?
Sigma can provide pharmacists with support in many areas:
As a wholesale partner, Sigma offers world-class facilities and cost-effective, efficient delivery of product under the CSO guidelines anywhere in Australia.
As a first-line wholesale partner, you receive the best discount and group buying opportunities available, delivered with regular, relevant account management support.
As a retail partner, Sigma has the most extensive range and scope of brands, banners and independent offerings in the market.
Sigma provides access to business planning, store performance, managed pricing, business analysis and benchmarking across each brand or banner.
You will receive access to the Sigma Reward program for additional partnership benefits.
You can benefit from Sigma's leading professional services programs.
We are currently working with automation partners on dispensary efficiency, which will benefit your pharmacy.
We offer financial support through Sigma Financial Services when changing or entering some of our branded offerings.
Sigma can also offer income and profit diversification through its industry aligned fully-owned specialist business units.
Our recently purchased company MPS offers technologically advanced solutions for DAA needs. As an immediate area of growth in pharmacy, MPS is the largest supplier of sachets in Australia.
As a second-line or short-line wholesale provider, CHS has some of the best offers in the industry based on volume opportunities. CHS also directly supports the Sigma Hospital Services business, which provides expanding services and supply options to hospital pharmacy.
There are so many reasons to be part of something better by becoming part of the ongoing Sigma story. Find out more today.

Back