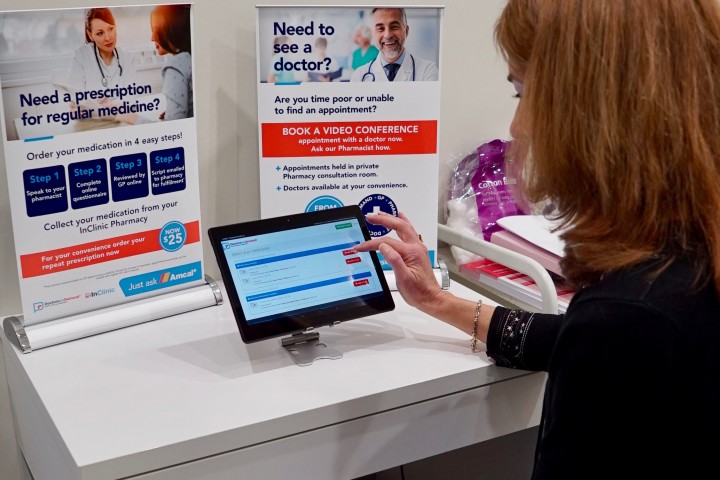 Sigma Healthcare and its branded pharmacies have launched an innovative partnership with Doctors on Demand called InClinic. InClinic provides patients with an Australian first, timely access to professional online consultation and advice from an Australian registered doctor, inside a pharmacy.
This new InClinic online General Practitioner (GP) service will focus on locations in Australia where there is a pharmacy, but the local community has limited access to GP healthcare services. To launch this partnership, 23 pharmacies across Australia will initially participate in the GP InClinic service.
A range of Amcal, Guardian and Discount Drug Store pharmacies, will now be able to offer a secure and private link to the Doctors on Demand online platform in a professional consulting suite. Through a secure and private video consultation with the patient, an Australian registered doctor can provide advice with an option of sending a necessary script immediately to the pharmacy or another pharmacy of the patient's choice.
Doctors on Demand is an Australian company run by directors with more than 40 years' experience in the healthcare sector. Doctors on Demand already has twenty Australian registered doctors as part of its Telehealth service, providing GP interactions via video on a secure, encrypted platform, with doctors able to access a patient's My Health records with their permission. In addition, continuity of care with their regular GP can be facilitated post this InClinic service provision.
David Preston, Sigma Healthcare's National Dispensary Operations Manager, says that rural and remote pharmacies, and those with extended trading hours, will provide this InClinic online GP service as an adjunct and support to local doctors.
"Pharmacies play a critical role in supporting the health outcomes of communities and this partnership with Doctors on Demand demonstrates we can provide more accessible healthcare services where there might be limited access to local GPs,'' he said.
Kirsty Garrett, CEO of Doctors on Demand, said this new InClinic service initiative with Sigma Healthcare will benefit the healthcare of communities across Australia.
"We know that patients are demanding more convenient access to healthcare in their chosen care setting. At the same time, access to GPs remains a challenge for patients in rural and regional Australia and it is in more remote areas where there has been significant interest from pharmacies to adopt the InClinic service,'' she said.
"From Claremont and Kingaroy in Queensland to Shepparton and Maryborough in Victoria, pharmacists are now able to provide access to quality GP services from their own consultation rooms, saving the patient from having to drive to another town to see a GP or present at the local hospital Emergency Room.  Residents in Claremont in Queensland for example currently rely on a locum visiting once a fortnight," according to Ms Garrett.
Research has shown the proportion of GPs in rural and regional Australia is far lower than in the cities and there are much higher turnover rates of GPs in the bush. There are also millions of costly admissions to hospital emergency wards by patients each year that could have been prevented with a GP consultation.
"Continuity of care is important which is why we support the use of My Health Record to securely share patient and medication summaries with the local GP,'' Ms Garrett said.
"We are encouraged by comments from Health Minister Greg Hunt that he is working on plans to open up access to modern tools such Telehealth through the provision of an MBS code.  This would go a long way towards making this service far more accessible, especially for rural and remote communities," Ms Garrett said
There will be three levels of service available for the InClinic service ranging from $25 for a quick script approval, $60 for a full video consultation during normal office hours (8am to 6pm, seven days a week) and $90 for an after-hours full video consultation with a qualified doctor.
The InClinic program is compliant with the necessary regulatory requirements to offer this form of Telehealth service and Doctors on Demand only employs AHPRA* registered doctors for video consultation, who will offer advice which is completely independent of the pharmacy and in the best interests of the patient.
For more information contact:
Sigma Healthcare                                                                                                           Doctors on Demand
Gary Woodford                                                    Steve Dabkowski                                 Kirsty Garrett
Corporate Affairs Manager                                Blue Dot Media                                    CEO, Doctors on Demand
gary.woodford@sigmahealthcare.com.au      steve@bluedot.net.au                        Kirsty@doctorsondemand.com.au
03 9215 9632                                                       0419 880 486                                       0411 438 719
0417 399 204
*AHPRA – Australian Health Practitioner Regulation Agency
Back