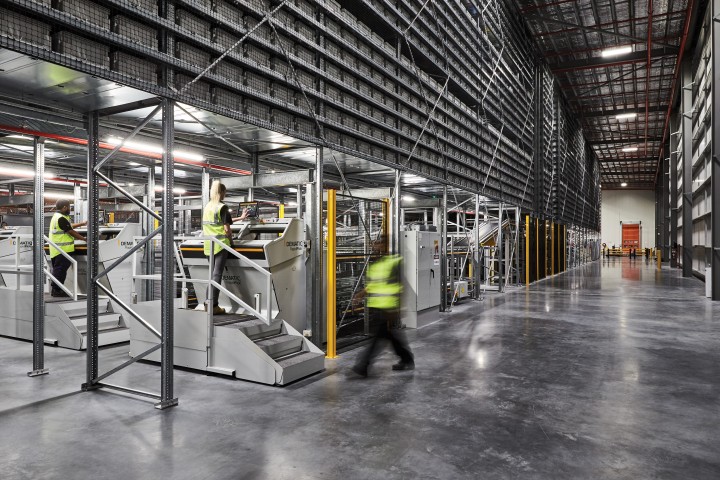 Our national Distribution Network works around the clock to deliver products to our pharmacy and hospital customers within short timeframes. Paul Brown, our National Operations Manager, Logistics explains how automation helps.
Over the recent difficult months, we have been proud to receive feedback from our customers that we have been leading the field in terms of supply. We've certainly seen an uplift in the orders we're receiving – because pharmacists and hospital buyers are confident that we will be able to fill them.
That's certainly due to our excellent supplier relationships – but another factor is the ongoing enhancements we've made to our Distribution Network. National capital city and regional reach, the use of proven sub-contractors for 'last mile' transportation plus increased automation in our Distribution Centres has resulted in a streamlined and reliable supply chain our customers can depend on.
New facilities, new automation
The past financial year has seen significant enhancements of some of our national network. Our new Sydney Distribution Centre in Kemps Creek opened in August 2019 and became fully operational in January 2020 – replacing our previous facility in Seven Hills. Covering 40,000 square metres, it stocks all of our 14,500-odd SKUs. Importantly, it has room for growth and further automation capabilities.
Our new 10,000 square metre Pooraka Distribution Centre in suburban Adelaide became fully operational in October 2019. Like Kemps Creek, it was completed on time and under budget.
Both developments involved advanced logistical design and construction, as did Canning Vale in Perth (February 2019) and Berrinba in Brisbane (April 2018). All our recent Distribution Centre projects have enabled the introduction of automated storage and retrieval systems (ASRS) and sophisticated Goods to Person (GTP) picking and assembly for despatch. These automated systems serve to increase productivity and significantly reduce the time from order receipt to despatch.
We are also in the process of reviewing warehouse technology in our regional facilities.
Accuracy and speed
From our customers' point of view, cut-off deadlines for orders are all important: the later an order can be placed for next day delivery, the better their business can meet the needs of their community. Typically, metropolitan orders have a cut-off time in the evening while regional centres and country areas must have orders in by early afternoon.
This is an extremely short time compared to other retail distribution networks – but we are committed to providing the support the Federal Government needs to deliver the National Medicines Policy. This aims to ensure a sustainable and equitable supply to patients across Australia, including remote areas.
GTP is a highly accurate way of automatically storing and aligning products in the correct sequence. Products are decanted into grey bins that are stored within the automation, until they are required to be directed to the picking stations in our warehouses, from which they are sorted into customer order tote boxes.
Because we have managed to push order receipt cut-off times back, we now rarely receive urgent orders after these deadlines.
A day in the life…
So how does a typical day in our Distribution Centres unfold? Many operate with three shifts 24/7, others with two and a bit, depending on local demand. Pretty much every day, 5:00am sees inbound bulk volumes from our many suppliers arrive. Pallets are unloaded and checked off, before being broken down for storage.
Around the same time, our drivers are arriving to pick up customer orders, often returning for further orders later in the day. Then, in the early afternoon, although we are still continuing to receive supplies, our focus shifts to despatching orders to our country and regional customers so they can be transported overnight to arrive the next day.
Once metropolitan orders cut off in the evening, we are primarily focussed on picking and readying them for collection the following morning.
Exceeding expectations
Well into the radical enhancement of our national Distribution Network, we have been exceeding the KPIs and business case productivity goals we set ourselves at the outset; in just one example, our Kemps Creek site was delivering over a million units a week within less than six months of full operations.
At Sigma Healthcare, we drive ourselves hard. We designed our Distribution Network to take us into a future of growth – for our own business and those of our customers. Our accelerated investment over the past couple of years will continue, with expected completion by 2022.
Next, read about a day in the life of our distribution drivers. If you'd like to find out more about our industry-leading distribution network, please contact Ernie Papadopoulos on 0417 563 987 or Ernie.Papadopoulos@sigmahealthcare.com.au
Back