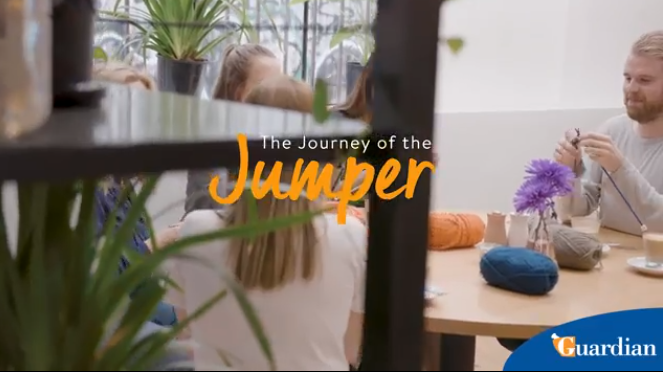 This year marks twenty years of the Guardian Angels Knitting Program, an initiative of Guardian Pharmacy which in its lifetime has provided over two million knitted garments for those facing hardship each winter.
In their 20th year Guardian Pharmacy has again teamed up with the St Vincent de Paul Society (Vinnies), and is calling on crafty Australians of all ages to put their knitting skills to good use, as the colder months approach.
From 1st June to 31st July 2018, knitted garments including beanies, scarves, jumpers and gloves will be distributed through Vinnies shops and services, in a bid to provide each of the 116,000 Australians experiencing homelessness and the three million in poverty with warm winter wear.
Beaconsfield Guardian Pharmacist, Chris Warne has been passionately leading his team of Guardian Angels since the program began 20 years ago and has watched the campaign evolve into what it is today.
"I've watched the Guardian Angels program help so many different people in need over the last 20 years but its core has always stayed the same – it's about our community helping each other – our knitters don't favour who they can help as long as it goes to someone that needs it," Mr Warne said.
"I think the Guardian Angels Knitting Program has been such a success because it's something those involved can do themselves as opposed to other initiatives – our customers are certainly proud in knowing that the woollen jumper they made will make a difference in someone's life."
"At the end of the day the Guardian Angels program brings our community closer together, we see the proud smiles of our knitters as they donate garment after garment knowing that this small act will hopefully bring another smile down the line."
St Vincent de Paul Society Western Australia Chief Executive Officer Susan Rooney said they were grateful to continue the partnership with Guardian Pharmacy and were proud to be part of an initiative that has helped Australians in need.
"Homelessness has risen by almost 14 per cent in the last five years and it doesn't discriminate – it affects people of all ages and backgrounds," Ms Rooney said
"While homelessness can look different for many Australians, winter can be a tough time no matter the circumstance, and the Guardian Angels program helps us support those who need it most."
Brian Tomlin, Guardian General Manager, said the Guardian Angels partnership had become an integral part of Guardian Pharmacy's community focus over the last two decades.
"We are consistently amazed by the endless compassion of our Guardian Angels, and are thrilled to have the St Vincent de Paul Society come on board again this year as our official charity partner," Mr Tomlin said.
"Guardian Pharmacies operate in close-knit communities and we're committed to providing practical solutions to the needs of those within them, and our longstanding Guardian Angels program is testament to this commitment.'
For more information on the Guardian Angels knitting program and how you can get involved this year please visit https://www.guardianpharmacies.com.au/guardian-angel.
Back