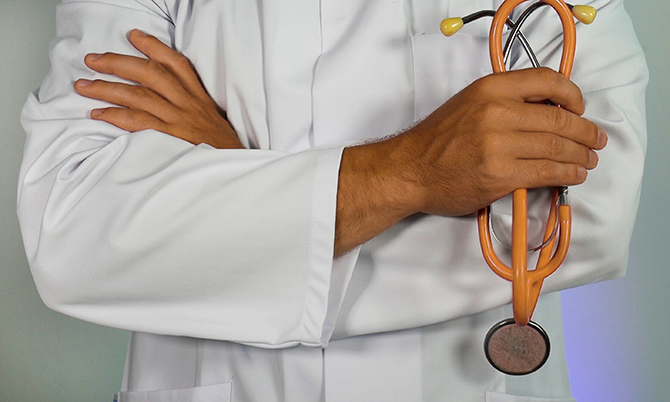 Why is heart health so important?
According to research from the Heart Foundation of Australia (2017), men over 40 have a one-in-two chance of developing heart disease. Early detection of an unhealthy heart may help you reduce your risk of heart disease and other problems.
Cardiologist Dr Warrick Bishop spoke to James Nevile, a senior Amcal pharmacist with more than 20 years' experience in the pharmaceutical industry, for his podcast. Nevile explained that, according to recent Amcal research, Australian men are putting their future wellbeing at risk by failing to take proactive measures towards managing their health. "Our mission with this campaign is to prompt action from Australians to get them thinking about their heart health, get them to proactively start managing some of their risk factors and re-engaging with their GP and other healthcare professionals," he said.
The findings revealed that less than a fifth of Aussie men would only take preventative health measures if their partner or children encouraged them to, while more than 40% of men admitted it would take a serious health scare to make them take any action. There may be many reasons for this, such as fear of the unknown or the results, but clearly this attitude needs to change. Many of the younger generation are worried about the long-term health of their fathers, and almost one-in-four of the millennial generation has already lost a parent to heart disease.
How can Amcal help?
Amcal has made it straightforward for men to take a proactive step, by providing the opportunity for a relaxed chat with a pharmacist. "This initial conversation, which can be accessed outside of working hours and at no cost, is often just the nudge they need to go and visit their GP," explained Nevile. Amcal pharmacists can help spot the signs of an unhealthy heart, using a free comprehensive nine-point check, and advise on any further action that needs to be taken.
Heart disease can affect anyone, but particular risk factors include older age, smoking, diabetes, being overweight, kidney disease, and high blood pressure, among others. It's vital that every Australian understands their risk factors for heart disease to work towards reducing their overall risk.
How does Amcal's 9-Point Heart Health Check work?
The check is conducted in-pharmacy by the regular pharmacist. During this private consultation, the pharmacist will discuss the nine risk factors for cardiovascular disease and help the patient determine if these risk factors are relevant to them.
Patients will have their blood pressure and weight measured, and there may be more targeted discussion around diabetes and smoking if these are relevant risk factors. Physical activity, kidney health, alcohol consumption, oral health and sleep patterns will also be addressed. At the conclusion of the check, the pharmacist will help the patient to identify future appointments they may need to make and assist with referrals. The pharmacist will record all recommendations in the patient's personalised flyer for sharing with their regular GP.
All Amcal pharmacists who offer these heart health services are comprehensively trained to complement their existing extensive professional expertise.
Why would a patient seek a Heart Health Check in a pharmacy?
Currently, many Australians avoid visiting their GP due to costs or time constraints. Research shows that patients are more likely to visit their pharmacist, with an average of 14 pharmacy visits per year, compared with between one and five GP visits per year. By providing these services, the pharmacist has an opportunity to speak with patients about the importance of regular risk assessment and monitoring for chronic health conditions. The overall aim of the service is to empower the patient to reduce their risk of developing cardiovascular disease, including facilitating their re-engagement with a GP or specialist.
What are the program outcomes and benefits?
Even a small step in the right direction is a good thing. Amcal is working in conjunction with GPs to raise awareness of heart risk with patients, and to holistically provide the best outcomes for individuals. When people are more educated and have more information about their health, such as knowing what their blood pressure is, they often take more ownership of their health, which leads to better outcomes.
Rather than purely a pharmacy-centred or GP-centred approach, the aim is to empower patients with information and then encourage them to gather a healthcare team around them for support. Patients get the best care if health professionals all work together. While there are some things well-suited to a pharmacy, like blood pressure measuring, other things are best measured at the GP. Amcal is encouraging patients to take the information and materials provided and then go to their GP.
How do programs like this improve community health in Australia?
The check is available in an ongoing capacity at every Amcal pharmacy. It's never too late to start making some changes for improved long-term health.
Amcal's aim is the same as that of all healthcare professionals: to help empower patients to take better care of themselves, and ultimately achieve optimal health outcomes. These heart health services are designed to help identify those at risk and re-engage them with their doctor for treatment and management advice.
Learn more about Sigma services and the free 9-Point Heart Health Check screening.
Back