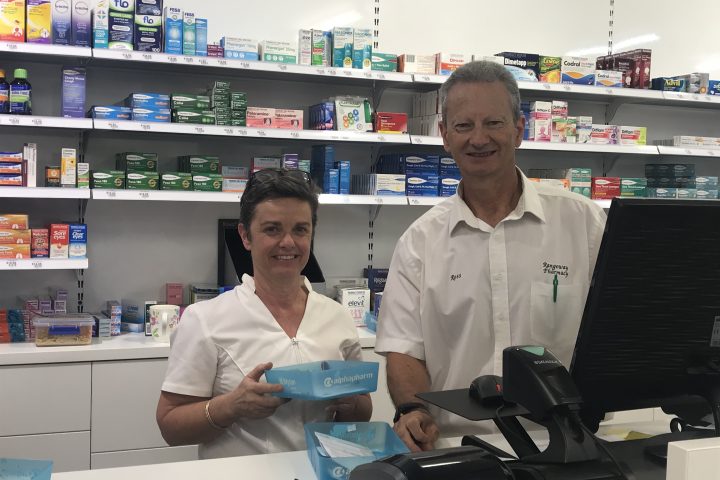 Together, Sigma's LEAPP Dispensary Excellence Program and dispensary automation have transformed Rangeway Guardian Pharmacy in Geraldton.
Rangeway Pharmacy was established in 1987 and was taken over by Ross McKay in 1995. Located in the Rangeway shopping centre, it has grown into a true community business – offering a wide range of value-add services to locals including sleep apnoea, diabetes screening and management, and medication reviews.
Rangeway Guardian Pharmacy also plays an important regional role in Aboriginal Health Services by packing and supplying medications to locals and remote communities – many of them hundreds of kilometres away from Geraldton.
Challenges
Ross and his business partner Louise Kendall recognised that offering health-related services was an excellent way to raise the contribution of their business to the health of their community whilst growing revenue at the same time. The difficulty was, like so many pharmacists, they were often tied up in dispensary, with not enough time to spend face to face helping and advising their customers.
"We found we were spending too much time on process and not enough on quality customer interaction," Ross says.
They also wanted to free up space in their pharmacy layout to accommodate a second consultation room. Another important initiative was streamlining workflow to bring greater efficiencies in the picking, sorting and packing of medicines for delivery to local and remote communities.
LEAPP and beyond
Ross and Louise enrolled Rangeway Guardian Pharmacy in the April 2019 intake of Sigma's LEAPP Program. LEAPP is a 12-week program that facilitates dispensary excellence by improving Leadership, Engagement, Data and Analytics, Physical Design & Workflow and Professional Services. It consists of a one-day workshop, webinars, coursework and coaching by the Sigma LEAPP team. The Program is driven by the pharmacy's core Guiding Team with the whole pharmacy team being involved in the learnings and behaviour change initiatives.
One of the subjects covered by the LEAPP Program is pharmacy automation. By May 2019, Ross and Louise were considering their options for installing fast-flow dispensary shelving or deploying a robotic 'helper'. Throughout the rest of 2019 they worked with the Sigma Implementation Team and automation partner BD Rowa to develop a new dispensary and packing area design with automation at the centre.
Their new 'helper' is a BD Rowa Vmax, customised to pick prescription items and deliver them via chutes, either to the retail-side dispensary or to the packing area at the back. Following successful reconfiguration of the pharmacy layout, the time-saving new system went live on schedule in June 2020.
Benefits
Ross and Louise are delighted with the efficiency's automation has brought to their pharmacy. "The 21st century has now reached us," Ross says. "Louise has done 96% of the planning and logistics – and she's done a great job. Now that we have the Rowa up and running, the LEAPP principles seem to be coming automatically it seems!"
"We are saving 100 hours per week in process time in terms of unpacking tote boxes, packing on shelves, removing from shelves both in the packing department and front of shop, accurate dispensing and less stock holding," Ross says.
"LEAPP and the ROWA provided the necessary tools to alleviate this problem in a big way. Stock was previously handled five times by staff to move from the tote box to the customer, so less process time and definitely less stock handling HAS to be a winner!"
If you would like more information about our LEAPP Dispensary Excellence Program, please contact your Business Development Manager or our state Sigma Account Managers or contact us.
Back