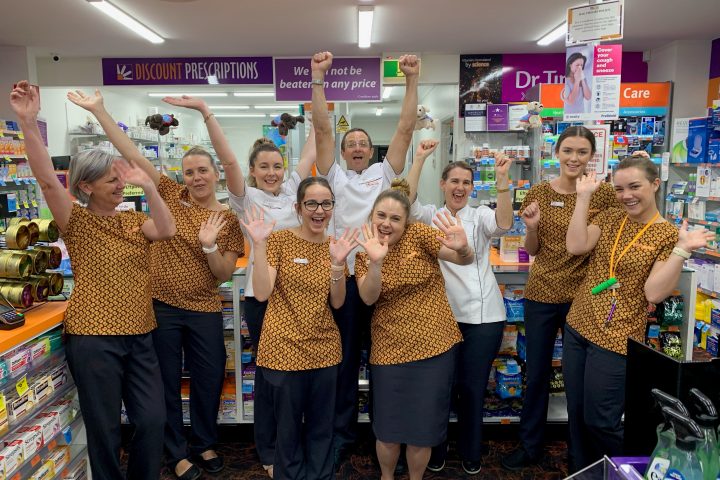 Discount Drug Stores (DDS) celebrated its 13th annual national conference a little differently this year, due to COVID-19, but nonetheless acknowledged and praised the achievements of its franchise partners.
For the first time presented via video link, the virtual awards presentation provided franchise partners, pharmacists and pharmacy teams the opportunity to connect and celebrate their peers who have gone the extra mile in a year that has delivered more challenges than most.
Head of Discount Drug Stores, Patrick Stoll, says he is continuously blown away by the incredible achievements of the DDS pharmacy teams and looks forward to seeing all the award recipients continue to grow the DDS brand.
"This year has been tougher than most for everyone. Our franchise partners, pharmacists and pharmacy teams have all been going the extra mile, even before the pandemic, to ensure their local communities get the best care and this is why it is so important to acknowledge all their hard work," Mr Stoll said.
"We are proud of all our award winners and congratulate them on their achievements and deserving wins. We look forward to seeing all recipients continue to embody Discount Drug Stores' values and we look forward to seeing them continue to grow with the brand."
This year's winners include:
Pharmacy Excellence Awards
National Pharmacy of the Year Award
Bundaberg Discount Drug Store (QLD)
Bundaberg have a strong business foundation created through the team's dedication to driving service excellence. The team embrace all new initiatives and are proactive in their approach towards innovation, retail execution and their goal to be THE destination for both professional services and Health/Wellbeing.
National Community Engagement Award
Scenic Rim Discount Drug Store (QLD)
The team at Scenic Rim consistently demonstrate a community centred approach with a strong focus on customer service and the delivery of professional and personalised health solutions to their customers. There is a strong service culture within the team, who are highly regarded amongst the community and this is evident by the rapport they have with their customers.
National Marketing Excellence Award
Highfields Discount Drug Store (QLD)
Highfields consistently lead the field with their LAM initiatives. The Highfields team excel in their local area and are almost at celebrity status in their hometown. Regulars on social media with high engagement due to their personalised posts, supporting local schools and sporting clubs with sponsorships, hearing them on the local radio, ads in the local paper, and seeing their branded delivery cars driving around town are just some of the reasons the team has taken out this award. Highfields were also featured in the Toowoomba Chronicle for their efforts in supporting the community during COVID-19 with their carpark and delivery services making it easy and efficient for their customers to safely get their medications.
National Professional Services Award
Menai Discount Drug Store (NSW)
Menai continually exceeds not only in the group average results, but national average results in these aspects of professional services, leading to exceptional customer care and engagement.
National Pharmacist of the Year
Connie Arronis, Illawong Discount Drug Store (NSW)
Connie has been instrumental in driving Illawong's business goals and increasing the profile of the pharmacy within the local community. Connie is a passionate pharmacist, focussed on delivering positive outcomes to the health and wellbeing of customers and members of the Illawong community. Connie has a can-do attitude and is always open to and adaptable to changes in processes, procedures and workflow. Connie provides a consistently high level of customer service and exemplifies the DDS core values. She is passionate about community pharmacy and strives to achieve KPIs and business objectives to keep the pharmacy viable all with the best health outcomes in mind for her customers.
National Retail Manager of the Year
Jacinda Crompton, Mandurah Discount Drug Store (WA)
Jacinda continuously demonstrates positive leadership and has a mission for her team to make a difference to their customers every day.  Incorporating strong retail and people skills the culture of the team has been defined by Jacinda's unwavering approach on demonstrating that you can make a positive difference in a customer's life, and that you can be the change. Jacinda has a strong focus on the financial health of the business and collaborates with the Franchise Partners of the store to ensure that their business goals are achieved.
National Pharmacy Assistant of the Year
Ellen Ryan, Innaloo Discount Drug Store (WA)
Ellen is great ambassador not only the whole team at Innaloo but also the industry.  Ellen embraces change and is forever refining her knowledge and skills and is seen as the "go to" person for the team and customers alike. Embracing social media for promotions and events and promoting to all our VIP and loyalty customers, Ellen is about planning, managing and making it happen.
Retail Compliance Awards
State Retail Compliance Award – QLD – Highfields Discount Drug Store
State Retail Compliance Award – WA – Albany Plaza Discount Drug Store
State Retail Compliance Award – NSW – Swansea Discount Drug Store
State Retail Compliance Award – VIC/TAS/ACT – East Geelong Discount Drug Store
National Retail Compliance Award – Swansea Discount Drug Store (NSW)
Back