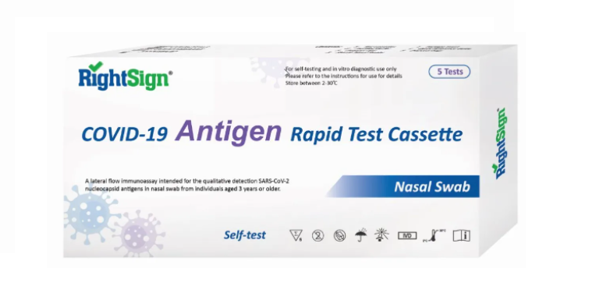 Sigma Healthcare now offers COVID-19 At-Home Rapid Antigen Testing Kits for pre-order
Sigma Healthcare will be one of the first to market with the at-home testing kits from 1 November 2021. Our Chief Pharmacist, Brinley Hosking, said the kit is very easy to use. Medical Industries Australia, a subsidiary of Sigma Healthcare, is pleased to supply community pharmacies with the nasal-swab, Right Sign Rapid Antigen Test (RAT), which was approved by the TGA for at-home usage last week.
"We're really pleased to offer pre-orders to our network of Sigma customers for Rapid Antigen Testing Kits this week, with the aim for stock to reach our customers as soon as possible," stated Brinley.
"As part of our advanced approach to offering at-home testing kits, our COVID Working Group has been working across the network so that teams on the ground are as prepared as possible to inform their customers about the testing kits. The tests come with an instruction sheet and video to assist consumers to use them correctly at home."
Sigma's network of community pharmacists have been on the front-line of the fight against COVID-19, helping to support Australians with COVID-19 vaccinations and now rapid antigen test for greater protection and peace of mind as restrictions begin to ease around Australia.
Sigma's TGA approved testing kits are available now for pre-order in packs of two, five or ten via the Sigma Connect online ordering portal and come with a two-year expiration date.
Back