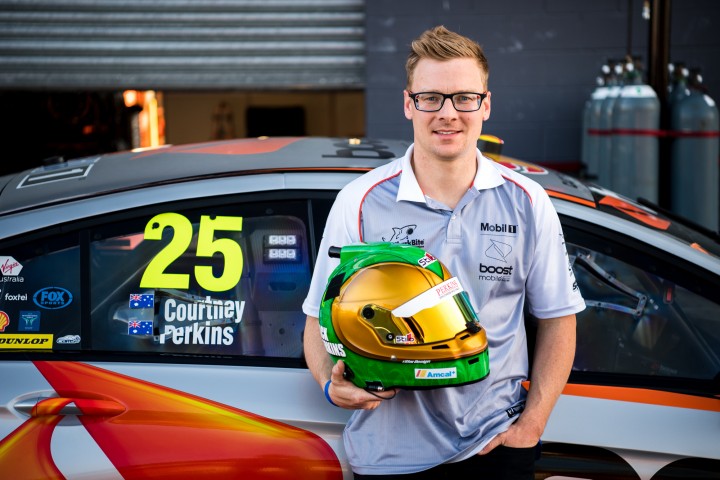 Amcal has teamed up with Supercars driver Jack Perkins to provide Australians with a never-before-seen insight into how he manages his diabetes behind the wheel of Australia's fastest cars. The partnership will work to provide greater education around the condition and encourage more at-risk Australians to get themselves checked at their local pharmacy or GP surgery.
In the lead up to the Gold Coast 600 Jack, who is the son of legendary retired race car driver Larry Perkins, showed his community how he manages his diabetes, including behind the scenes social content, interviews and candid conversations about his journey.
Helping to dispel stereotypes and mobilise those living with diabetes, followers were given an insight into never-before-scenes and intimate shots of Jack's gruelling race training schedule.
Jack's diabetes journey follows findings from Amcal's 2018 Diabetes Care Review, which drew attention to the negative attitudes and misconceptions among the general public about diabetes. For example, more than a quarter[1] of Australians surveyed consider diabetes to be a self-inflicted disease and a burden on the health system.
Jack knows better than most the toll of such a stigma. Diagnosed with Type 1 Diabetes at 21 years of age, he was told that he would never race a car again but thanks to his determination, passion for racing and never-give-up attitude, he could gain medical clearance and return to the sport he loves so much.
Ten years later, Perkins says he is passionate about sharing his journey, empowering others living with the disease and breaking down the stigma attached to the condition.
"I won't lie, there were moments when I was first diagnosed where I worried I would never race professionally again but the last decade is proof that you can manage diabetes and compete at the top level of Australian sports," he said.
"I want people with diabetes, especially kids, to know that this condition can be managed and that it shouldn't affect the goals you set yourself or the dreams you have".
Amcal Pharmacy General Manager, Brian Tomlin, said that by sharing information and valuable content which resonates with Perkins' audience, they hope to reach more Australians not only to remove the stigma around diabetes but help people to better manage their condition.
"Our Pharmacists are trained to provide Type 2 Diabetes risk assessment services which allow them to identify individuals at risk and advise them on the help available to them – often working in conjunction with GP's and other healthcare professionals," he said.
"Aussies living with diabetes have appealed for greater understanding of the condition, particularly as our research revealed that a third have faced some form of prejudice at work ranging from being judged for taking sick leave and being excluded from social gatherings to being passed over for a promotion.
"We're proud to have teamed up with Jack Perkins and raise awareness that Aussies living with Diabetes are supported, that the condition can be managed and they do not need to feel held back. Jack's story is a testament to this belief and we look forward to seeing his community engage with his journey," Tomlin said.
To follow Jack's #MyDiabetesJourney follow @amcal_pharmacy and @jack_perkins_ on Instagram and for more information on Amcal's Diabetes Risk Assessment service visit https://www.amcal.com.au/diabetes-service
[1] 27% of Australians surveyed feel that diabetes is a self-inflicted disease that has put a huge burden on the health system
Back