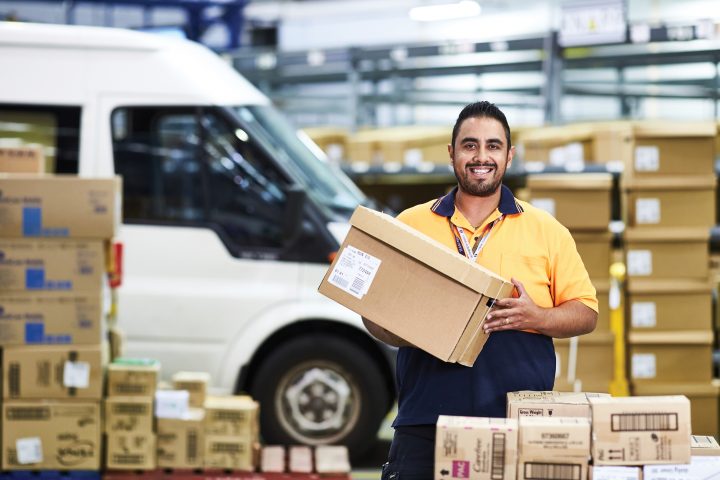 Well before your pharmacy opens, pharmacy deliveries are prepared and Sigma Healthcare drivers are ready to deliver essential products to our pharmacy and hospital customers within short timeframes. Paul Brown, our National Operations Manager, Logistics describes their typical day.
Sigma's national Distribution Network is working away behind the scenes 24 hours every day – but our customers only see the evidence of all that massive activity when their Sigma driver turns up at their pharmacy. So, what's a typical day like on the 'coalface' of the pharmaceutical supply chain?
The day starts
As I mentioned in my article about our Distribution Network, many of our metropolitan warehouses are operational 24/7 to receive, store, select and despatch. Around 5:00am sees the first distribution drivers arriving through security and sign-in, then picking up goods from our loading bays in nominated lanes.
Each carries a handheld device which, by now, has been updated with all the information the driver needs for the day's run. Then, as goods are loaded on the truck, each container is scanned one by one to verify it has been collected.
A typical load will contain 100-200 containers of products – and they might be destined for between one and 15 customers. In the case of quantities of stock for our largest customers, the driver might take a single load to its destination, then return a few hours later to reload for other customers. If deliveries are going to around fifteen smaller pharmacies, that will likely take up an eight-hour shift.
Carrying a special cargo
Before drivers leaves our warehouse for a day's run, they also visit our vault and refrigerated area to pick up any high-care drugs that require special attention. All of our metropolitan trucks include a large fridge unit, while regional drivers receive these products for delivery in ice-packed Eskis.
Whatever the run, all the details are stored in the handheld device – which has GPS tracking and helps optimise the driver's day by mapping the required route logically.
At our customers
The majority of our drivers have set runs. The advantage of this is that they get to know your staff – and even become part of your team. They also don't lose time working out where to park or where your loading bay is located, because they've been there many times before. They typically arrive around the same time each day – so you know when you can expect new stock and manage staff activities.
Once at your premises, goods are signed for on the ubiquitous hand unit. High-care products originating from our vault can only be handed directly to a pharmacist and require a special sign-off. Once you've got what you ordered, your driver will know where to collect any returned goods from – and load them back into the truck together with the totes your order came in. Then it's on to the next pharmacy or back to the warehouse where any returned goods will be credited to your account.
Sigma plays a big role in helping the government meet its National Medicine Policy objective of "timely access to medicines that Australian's need, at a cost individuals and the community can afford" – and our drivers play a critical role in delivering this.
Next, read how we've been enhancing the accuracy and speed of our Distribution Centres. If you'd like to find out more about our industry-leading distribution network, please contact Ernie Papadopoulos on 0417 563 987 or Ernie.Papadopoulos@sigmahealthcare.com.au.
Back