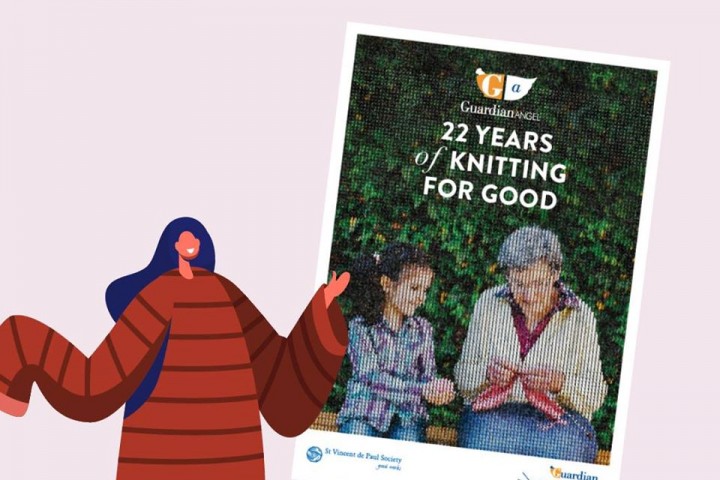 Australia's leading pharmacy for customer satisfaction*, Guardian Pharmacy, has launched its annual Guardian Angel 'Knitting For Good Program', in partnership with St Vincent de Paul Society (Vinnies), encouraging new and experienced knitters to connect with one another by joining the online community and knitting garments for the homeless and other vulnerable members of the community.
Now in its 22nd year, the 'Knitting For Good' program sees thousands of passionate volunteers nationwide, appropriately called 'Guardian Angels,' knit garments such as beanies, scarves, jumpers and gloves, for those less fortunate.
The knitted garments are inspired by the Guardian Knitting Pattern book, with new pattern designs released each year. The donation drop off points for completed garments will be scheduled for next year, due to current physical distancing guidelines.
Head of Guardian, Kurt O'Brien, said the program is another way Australians can come together to support those most in need, and is also a great option for those looking for a new hobby to keep busy.
"We know from our work with Vinnies that homelessness doesn't discriminate and can affect anyone and what's heartwarming to see at times like these, is just how the Australian community bands together to support one another," said Mr O'Brien.
"During these unprecedented times, it's imperative we adapt our corporate social responsibilities initiative to today's current climate, while ensuring we are still finding ways to connect and bring together Australians – this year's Knitting For Good program does just that.
"It's why we're proud to be continuing our long-standing relationship with Vinnies for another year – whether you are a returning Guardian Angel or are looking to start a new hobby to help occupy your time at home, our Knitting For Good program is a great way to get behind and connect with your local community during isolation while bringing warmth and comfort to others.
"This year, we ask Australians no matter their level of experience to get involved – knitters can now download the free Guardian Angel Knitting Book from our website, which provides a selection of patterns with easy-to-follow instructions. Knitters are also encouraged to share their crafty creations on the Guardian Pharmacy Facebook page with the hashtag #knittingforgood2020," added Mr O'Brien.
Mr O'Brien adds that while pharmacists are currently working tirelessly, in these unprecedented times, to support their communities with trusted advice and care, it's as important as ever for the community pharmacy to remain committed to those most at need.
"At Guardian, care remains our core focus – and that promise goes beyond our pharmacies, it is about making a tangible, lasting difference to the communities in which we serve. Now, more than ever, is the time to be connecting with one another and showing our support for others" said Mr O'Brien.
Mr O'Brien concludes that the Knitting For Good program could not exist without the valuable and dedicated network of Guardian Angels who have donated more than two million garments over the lifetime of the program.
"We couldn't be more proud of our Guardian Angels – our program has seen knitted garments delivered to those who need it most, and we can't thank them enough for the continued support, love, and care they bring to the program each year," said Mr O'Brien.
The Guardian Angels have also recently taken over the Guardian Pharmacy Facebook page, and will serve as a central point of resource for the next five weeks to help keep knitters stay connected with one another through sharing their crafty creations and comparing knitting tips.
The Guardian Angel knitting program is part of the pharmacy's wider community centric support services including the Guardian Club rewards program, medicine home delivery and in-pharmacy health checks and professional screening services.
For more information on the Guardian Angel knitting program and how you can get involved this year, please visit https://www.guardianpharmacies.com.au/guardian-angel.
Back