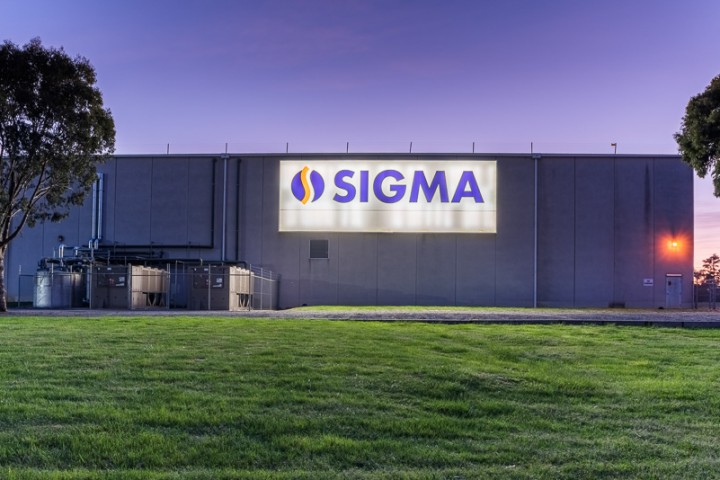 Sigma underlying EBIT surpasses $100 million and FY18 outlook remains on track
Financial Summary
| | | |
| --- | --- | --- |
| Revenue | $4.4 billion | Up 26.2% |
| Underlying EBIT * | $100.2 million | Up 12.4% |
| Reported EBIT | $80.9 million | Up 1.1% |
| Underlying NPAT * | $66.9 million | Up 13.0% |
| Reported NPAT | $53.2 million | Up 5.3% |
| Underlying ROIC * | 16.8% | Up from 14.6% |
| Final Dividend | 3.0 cps | Unchanged |
Refer to Notes on final page
Highlights
Underlying EBIT up 12.4% and Reported EBIT up 1.1%
Underlying NPAT up 13.0% and Reported NPAT up 5.3%
Underlying return on invested capital (ROIC) up to 16.8% from 14.6% in the prior year
Shareholders continue to be rewarded with 3.0 cents per share dividend
Confirmation of existing guidance for FY18 of at least 5% underlying EBIT growth
Share buy-back refreshed for up to a further 10% of shares on issue
Proposing a name change to Sigma Healthcare Limited, subject to shareholder approval
Overview
 FY17 has seen Sigma Pharmaceuticals (Sigma) grow Underlying EBIT by 12.4% to $100.2m.  With Underlying NPAT also up 13.0% to $66.9 million, this represents another strong financial performance for the company and its shareholders.
 Sigma CEO and Managing Director, Mark Hooper said the company has consistently delivered on its promises.  For shareholders, there is a final fully franked dividend of 3.0 cents per share bringing the total dividend paid in respect of the FY17 year to 5.5 cents per share, up from 5.0 cents last year.  For our pharmacy customers, it means Sigma's continued ability to invest in programs to support their success.
"The results are very pleasing, particularly as they are being delivered from the consistent execution of our strategy.  We set out to diversify our business by seeking opportunities to grow non-PBS earnings.  This is what has delivered these results.  Whilst PBS remains a large and important part of our business it is not a major contributor to earnings growth."
"We have also continued to invest during the year in operational capability, including business development, process re-engineering, infrastructure project management, and retail services. Whilst this investment may mean a slight drag on the current year results, I am in no doubt it is the right strategy to drive step change across our business longer term." Mr Hooper said.
In the year ending January 2017, revenue was up 26.2% including the impact of the listing of Hepatitis C medicines on the PBS.  Excluding hepatitis C medicines (which is a high value/low margin business), revenue was up 6.3%.
Sales Revenue growth was achieved through a combination of the inclusion of Hepatitis C medication and organic growth.  Total volumes delivered for the year were up 4.7%.  Non-PBS medicines now account for 55% of volume distributed, and 36% of total revenue excluding hepatitis C.  We remain focussed on our strategy of diversifying as we seek to ultimately shift our earnings towards a 50/50 PBS/non-PBS business.
On a like for like basis, sales to Sigma branded pharmacies were up 8.2% for the 12-month period.
"Our philosophy has always been that we need our pharmacies to be successful for Sigma to be successful.  We have leveraged our scale to invest significantly in our national retail brands and patient focussed programs over the past few years, and we now have the most compelling offer in the market," Mr Hooper said.
Sigma's move into the China market has proven successful, with sales more than double initial expectations. The company is now looking to push in to the Hong Kong market to leverage off the platform already established in mainland China.
Sigma's entrance into the hospital pharmacy market also continues to build.
"Our hospital pharmacy business cemented its partnerships in Victoria, with Sigma continuing to hold around 20% market share.  Our push into New South Wales has just begun but the signs are promising with over 30 hospital accounts trading with us consistently, providing a platform for continued growth.  Infrastructure and people are also now in place in Western Australia to continue our national focus," said Mr Hooper.
The extension of our wholesale business into pre-wholesale opportunities has also continued to be successful.  Through CHS (Central Healthcare Services) we now have a national presence that has more than doubled our pre-wholesaling revenue.
As announced on 17 February 2017, Reported EBIT and Reported NPAT were both impacted by one-off items relating to an insurance premium recovery claim ($11.4m) and a doubtful debt provision ($8.3m).  Whilst disappointing, they are both one-off impacts reflecting historical issues and are not reflective of systemic operational or structural issues.
Infrastructure Investment
As previously flagged, Sigma is undertaking a significant investment program that will vastly improve our distribution centre network.
"Construction at our new site in Berrinba in South East Queensland is going to plan, and is expected to be fully operational towards the end of FY18.  Internal construction work is underway, including the installation of leading automation that will significantly enhance our capability to better serve our customers in Queensland," said Mr Hooper.
Sigma is also pleased to announce a new $55 million investment in a new distribution centre in Canning Vale in Western Australia.
"We have secured the land for our new distribution centre in Canning Vale, Western Australia.  Our existing site will not adequately support our future needs and is therefore an impediment to new business growth.  This new site is 15,000 square metres that will have capacity to meet the long term needs of our business.  Construction should commence within the next two months," said Mr Hooper.
Capital Management
 Balance Sheet strength is critical to support our infrastructure investment program and rewarding shareholders.
At year end, Sigma has net debt of only $8.7 million.  This positions Sigma to comfortably fund the infrastructure investment program without curtailing any other business expansion opportunities.
"We are now reviewing our existing debt facilities to ensure they are fit for purpose for our current profile and the strategic direction we are pursuing.  This will ensure we are ready to seize opportunities that make sense strategically and financially," said Mr Hooper.
Our focus on capital management has seen our underlying Return on Invested Capital (ROIC) reach a record high 16.8%, up from 14.6% in FY16.
The share buy-back program continued during the year albeit at a lower level, with 4.2 million shares bought back at a cost of $5.0 million.
Chairman Mr Brian Jamieson commented, "Whilst we were less active, we have not turned off our buy-back program.  In fact, the Board has agreed to refresh it up to a further 10% of shares on issue.  Given our infrastructure program and other opportunities, we will continue to keep it under review."
Dividend
Shareholders will again benefit from the strong year, with a fully franked final dividend to 3.0 cents per share.  This brings the total dividend paid in respect of FY17 to 5.5 cents per share fully franked, up from 5.0 cents per share in respect of FY16.
"This dividend represents a dividend payout ratio of 89% of underlying NPAT, continuing our practice of paying out a high dividend payout ratio to reward shareholders," said Mr Jamieson.
The final dividend is payable on 21 April 2017, with an ex-dividend date of 6 April 2017 and a record date of 7 April 2017.
Sigma Healthcare
Sigma will seek shareholder approval on 3 May 2017 to change the company name to Sigma Healthcare Limited.
"This is a natural progression of where we are as a business and where our strategic direction is heading.  The tagline "Connecting Health Solutions" better describes what we do as a business," said Mr Hooper.
As part of the move, Sigma will change it's ASX ticker from SIP to SIG from 4 May 2017.
Outlook
"We confirm our previous guidance of at least 5% underlying EBIT growth for FY18, even though it will be off a bigger base than initially anticipated," said Mr Hooper.
Mr Hooper continued, "The year ahead will not be without its challenges as we continue to bear the full cost of our reinvestment plans that will start to incrementally contribute to results, skewed towards the end of FY18 and into FY19.  So to still expect deliver on our guidance is pleasing."
For more information, please contact:
Mr Gary Woodford
Corporate Affairs Manager
Mobile: +61 417 399 204
Email: gary.woodford@signet.com.au
Notes
 
FY17 Reported
FY17 Underlying

(Note 1)

FY16

 

% Change Underlying

(Note 1)

 
$000
$000
$000
%
 
Revenue
4,366.2
4,366.2
3,461.1
26.2
EBIT (1)
80.9
100.2
89.2
12.4
NPAT
53.2
66.9
59.2
13.0
 
 
 
 
 
 
cents
cents
cents
%
Dividends Per Share (2)
5.5
5.5
5.0
10.0
Earnings Per Share
5.4
5.4
5.0
8.0
EBIT includes share of profit/(loss) of equity accounted investee before tax of $0.3m.
Underlying pre-tax ROIC is based on the last twelve months of earnings (EBIT) excluding one-off litigation settlement expense before tax and earnings from non-controlling interests.
Back