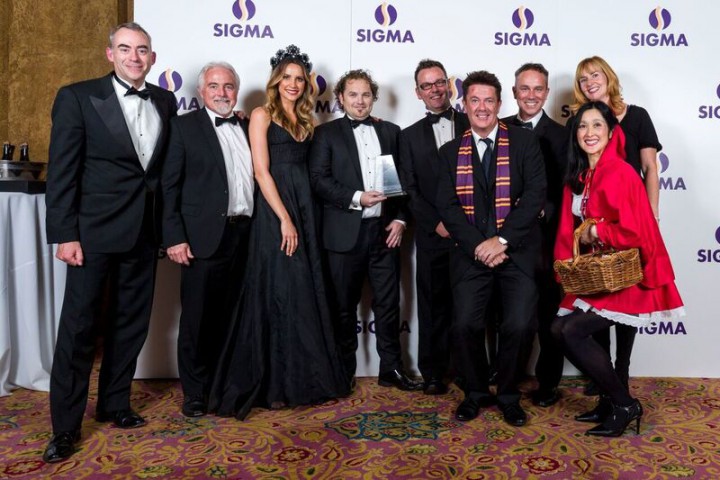 GSK Consumer wins top award – 2016 Supplier of the Year for second year in a row;

Azoya wins Multichannel Supplier of the Year Award following Amcal's successful launch into the Chinese online market in 2016;

Iconic brands such as Blackmores, Bayer, Natio and Roche Products picked up a range of other awards.

$70,000 donated on the night to support Carers Australia
The 2016 Sigma Supplier Gala Dinner and Awards night was held in Melbourne on 10 November recognising and rewarding the critical role which business partners play in the effective running of the pharmacy supply chain.
In front of a crowd of industry leaders and special guests, the overall winner GSK Consumer picked up two key awards, repeating their success from last year, showing the company continues to improve its commitment to supporting Sigma's retail banner brands.
Other notable winners included Blackmores (winner of the Health & Wellbeing Supplier of the Year) and Natio (winner of the Beauty/Gifting Supplier of the Year).
Azoya was acknowledged at tonight's gala event, winning Multichannel Supplier of the Year, following Amcal launching a Chinese language version of its website in June which has exceeded all sales expectations. Azoya, who are the local distributor and a Chinese e-commerce specialist, is managing this site.
Sigma Chief Operating Officer Mr Gary Dunne congratulated all the winners of these critical awards, which have quickly become one of Sigma's most important annual industry events.
"Sigma and our important retail brands are only as good as the business partners who support our growth and development and tonight's event is our opportunity to acknowledge the excellence and commitment of our suppliers,'' he said.
"Maintaining an effective and seamless supply chain is critical to ensuring the success of our retail brands and that's why we believe these annual Supplier Awards set the benchmark in the industry for recognising consistent high performance,'' Mr Dunne said.
Mr Dunne said it was gratifying to see so many new winners in 2016, showing that the whole industry fought hard to work closely with Sigma and their retail business partners.
Sigma also proudly promoted the great work of Carers Australia, conducting a fundraiser on the night which contributed to $70,000 being donated to support the efforts of Carers Australia in supporting the community.
The Full List of the 2016 Sigma Supplier Award Winners
Supplier of the Year – GSK Consumer;
Professional Services Supplier of the Year – Roche Products;
Multichannel Supplier of the Year – Azoya;
Marketing Pharmacy Support Supplier of the Year – AIW;
Specialised Ethical Supplier of the Year – Mundipharma;
Ethical/PBS Supplier of the Year (branded) – Novartis Pharma Australia;
Services Supplier of the Year – Tamex;
Retail Pharmacy Support Supplier of the Year – BRL Shopfitting;
Beauty/Gifting Supplier of the Year – Natio;
Health & Wellbeing Supplier of the Year – Blackmores;
Medicinal Supplier of the Year – Bayer;
FMCG Supplier of the Year – GSK Consumer
Back